If this seems like a strange time for a post about the best college hockey rinks in the U.S., well, it is. After all, college hockey teams are playing games in empty buildings. Games continue to be postponed and cancelled, and some schools decided not to play at all this season.
So, what made me want to write about these rinks now?
To put it simply, I love college hockey, and one of the things I love about it is the rinks. I want to visit more college rinks, and doing the research for this post has helped me narrow down which ones are at the top of my hit list.
Beyond that, I like to celebrate the college game, in part to get hockey fans that don't pay attention to college hockey to give it a look. Lots of people say that hockey is better to watch live than on TV. I agree with that, and I think it's especially true about college hockey.
And of course, there's a little bit of wanderlust daydreaming going on too. That was part of why I wrote a post early on in the pandemic about ideas for hockey fan road trips, and that applies for this post as well.
---
Cornell – Lynah Rink
First up is Cornell's Lynah Rink. This arena, which opened in 1957, doesn't look like anything special from the outside, nor does it have the most amenities for fans on the inside. But despite being somewhat lacking when it comes to style and luxury, the rink is one of the best places to see a college hockey game.
Why is that? Simply put, it's because of the fans. The Lynah Faithful, as they are known, have a well-earned reputation for being as loud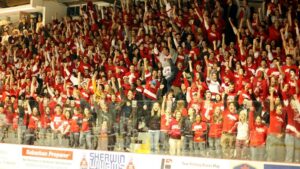 and passionate as any fan base in the country. A mix of students and locals have fun with a variety of traditions, from reading newspapers in feigned disinterest during opposing player introductions, to a series of favorite cheers and taunts. The energetic and talented Cornell band is a big part of the action, too.
All this, along with the low ceiling and closely-packed arrangement of the 4,267 seats makes the building loud. It's a tough place for visiting teams to play, and Cornell's home record typically reflects that. Still, many opponents look forward to playing at Lynah, because it's a good test of where they stand as individuals and as a team.
There have been renovations over the years, both to the concourse/seating area and to the team areas. I'm sure the enhanced training, meeting, and locker rooms are helpful from a recruiting standpoint. But I'm guessing that even now, Cornell's best tool to win over recruits is simply to have them come to Lynah Rink for a game and imagine playing in that environment.
---
University of Michigan – Yost Arena
This impressive brick building was originally built in 1923 and hosted Michigan basketball, track, and other activities for 50 years. In 1973, though, it was converted into an ice arena and has been the home of Wolverines hockey ever since.
Like Cornell's Lynah, Yost is known for its loud, passionate atmosphere. With one entire side of the rink (except for the overhanging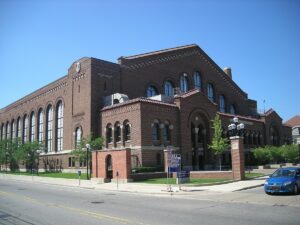 balcony with a few hundred club seats) designated as student seating, and Michigan's excellent band getting the entire crowd fired up, there is plenty of school spirit in the air.
Despite being an older building, Yost is an enjoyable place for spectators to take in a game thanks to several renovations and improvements: a video board, more premium seating, lighting and sound system upgrades, a roomier concourse, and more. The classic exterior remains the same, though.
Michigan has won nine NCAA championships, more than any other program. The program also has produced a large number of NHL players; some current ones include Kyle Connor, Quinn Hughes, Dylan Larkin, and Max Pacioretty. That long tradition of excellence is part of what makes the fans so passionate, but it goes the other way too – the atmosphere at Yost inspires and brings the best out of Michigan's players.
---
Northeastern – Matthews Arena
There's a lot of history in Boston, so Northeastern's Matthews Arena might not seem old compared to Fanueil Hall or Old North Church, but when it comes to hockey arenas, Matthews is ancient. Dating back to 1910, it's the oldest hockey arena still in use in the world.
Originally called Boston Arena, the building has hosted a broad spectrum of events: political rallies for figures such as Theodore Roosevelt, Franklin Roosevelt, and John F. Kennedy; boxing matches featuring Jack Dempsey, Joe Louis, and Marvin Hagler; and, professional wrestling, rock concerts, and more. It was home to the Bruins for the team's first four seasons in the NHL, and the Celtics for that team's first nine seasons. In addition to Northeastern, Boston Arena also served as the first home for other college hockey programs, including Boston College, Boston University, and Harvard.
Northeastern bought the arena in 1979 and renamed it after an alumnus who funded its renovation a few years later. It's had a few more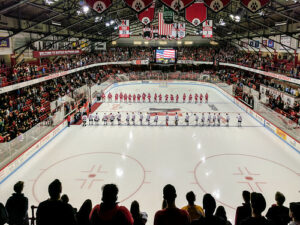 upgrades since then. The ones that relate to the fan experience include a big new video board, updated lobby, and better concessions. The lobby has a display of team pictures of every Northeastern hockey squad dating back to the program's inception over 90 years ago.
The arena has a distinct feel as a spectator. Seating 4,666 for hockey, Matthews has steep balconies all the way around the rink that make you feel like you're right over the action on the ice. The Northeastern student sections, known as the Dog House, are in the balconies at both ends of the rink.
Northeastern has sent a handful of players to the NHL over the years, from old-timers like Chris Nilan to active players like Zach Aston-Reese, Adam Gaudette, Josh Manson, and Jamie Oleksiak, among others. Perhaps the school's best-known hockey alum comes from the women's program, though, in Kendall Coyne Schofield. Both the men's and women's teams have been strong for the last few years, and that makes seeing a game at Matthews more fun, but really, this arena should be a must for any college hockey fan. Like going to a baseball game at Fenway or Wrigley, you feel like you're in a cathedral of the sport.
---
Notre Dame – Compton Family Ice Arena
At Notre Dame, sports are like Ron Burgundy – they're "kind of a big deal." So while football always has been and always will be the biggest deal in South Bend, the school generally doesn't do things halfway when it comes to other sports either, especially the higher-profile ones.
That kind of explains how the Compton Family Ice Arena came to be on this list. Opened in 2011, the arena is named for the lead donor to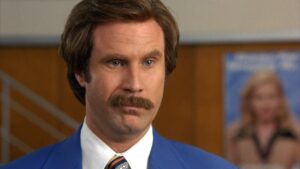 the $50 million construction cost. At that price, you'd expect a first-class facility, and Compton doesn't disappoint. It seats 4500, mostly in chair-backed seats; additional standing-room space puts the total capacity at 5,022. The rink has seating on two levels, and roughly 25% of the seats are for students at one end of the ice.
The comfortable seats, good sight lines, and resources inside the building (eight restrooms!) make this a very enjoyable place to watch a game. Another nice thing about Compton is that there are actually two sheets of ice; in addition to the main rink (named the Charles W. "Lefty" Smith Jr. Rink, after Notre Dame's first hockey coach), there's also an Olympic-sized sheet used for community programs, public skating, preparation for when Notre Dame has a road game on a larger sheet, etc.
Sometimes a shiny new college arena can feel a little bland, like a generic minor league rink. But thanks to the energy of the loud, loyal Notre Dame fan base (both students and non-students alike), as well as the excellent design of the facility, Compton manages to strike a balance, feeling both impressive and cozy at the same time.
---
St. Lawrence – Appleton Arena
Nestled in the small town of Canton, New York, St. Lawrence is one of the smallest schools in Division 1 hockey (and a Division 3 school in all other sports). It's not surprising, then, that the school's hockey arena would embody all the best aspects of that David versus Goliath dynamic.
The home of St. Lawrence hockey since 1951, Appleton exudes old-school charm. The original wooden bleachers and distinctive wooden ceiling give it a Swiss ski lodge vibe. But a few renovations over the last 70 years, including a major one in 2019, have brought the rest of the rink up to modern standards. For fans, that means a larger lobby, more concessions, and wider concourses.
Of course, one of the things that makes Appleton a great place to watch a hockey game is the atmosphere. I think the school's location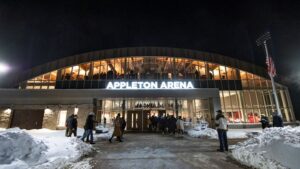 has a lot to do with that. A lot has been written about the role of a hockey rink in a small town. It's a gathering spot, a hub for the community's social interactions during dark, cold months. We often associate that role with rinks on the Canadian prairies, or in the upper Midwest of the U.S., but I think it's true in other places too. Saints games at the 3200-seat Appleton draw good crowds, even though St. Lawrence's enrollment is only about 2400, and the population of Canton is less than 7,000.
This is true even though the men's team has struggled mightily in recent years, and the women's team has fallen to the middle of the pack in the last few years too. For the fans that fill Appleton, whether they have a direct tie to St. Lawrence or not, there's a passion for Saints hockey that's about more than just the product on the ice. It comes from a sense of community, and of connection with the history and tradition that call Appleton home.
---
University of Vermont – Gutterson Fieldhouse
The Gut, as UVM's Gutterson Fieldhouse is affectionately known, has been home to Catamounts hockey since it first opened in 1963. As such, it has a unique role in that it's the largest indoor arena in Vermont and one of the most well-known buildings in the state, yet, like Appleton at St. Lawrence, it's a place that feels familiar and comfortable to local fans.
With no major league professional sports teams in the state – the closest is in Montreal, which is 95 miles and a border crossing away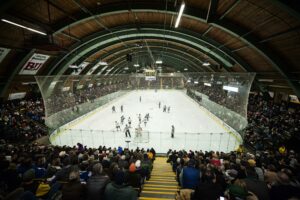 from the Burlington campus – Vermonters have a lot of passion for UVM sports. Hockey draws a lot of local fans along with students, and while the crowds might not be as loud as at some schools, they are knowledgeable and very loyal.
That loyalty has been important as the men's team has had several rough seasons recently. Regardless, Gutterson is always an enjoyable place to watch hockey. The barrel-vaulted wooden ceiling gives it a unique look, and all of the 4,035 seats offer a good view of the ice. The public spaces pay tribute to UVM's hockey history, which includes notable names like Martin St. Louis, Tim Thomas, John LeClair, and Patrick Sharp, among others.
If you ever have a chance to see a game at The Gut, you should. The results on the ice haven't been there recently (though I think new coach Todd Woodcroft is an excellent choice to turn the program around). Regardless, you'll be watching high-level hockey in a quintessential old barn, while surrounded by knowledgeable, die-hard fans.
---
Yale – Ingalls Rink
Ingalls Rink – often called the Yale Whale thanks to its humpback-shaped roof – may be as well known among architecture fans as it is among hockey fans. It was designed by the renowned architect Eero Saarinen, a Yale graduate who also designed the Gateway Arch in St. Louis and the famous TWA terminal at New York's JFK Airport.
The aesthetically pleasing lines of the Whale's exterior are matched by a clean, graceful interior. This starts with the wood timber ceiling.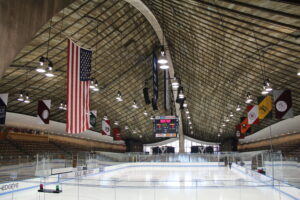 The walkways around the perimeter are gently sloped, higher along the sides and lower at the ends of the rink. The wooden bleachers, which seat 3500, follow the same contour and are perfectly symmetrical around the rink. The sight lines are excellent; there's not a bad seat in the house.
Ingalls first opened in 1958, so naturally it has needed updating since then. It got a major renovation in 2010, which included upgrades for teams (locker rooms, training room, strength and conditioning facility, lounge areas) and spectators (restrooms, concessions, and a heritage area showcasing Yale's long hockey history). Fortunately, these upgrades were done without affecting the unique, iconic look and feel of the building.
Yale games typically have a great atmosphere, drawing a mix of students and locals. When the talented pep band is in the building, the excitement is pumped up an extra notch. After a great run from 2009 to 2016 with six NCAA tournament appearances in eight years, including a national championship in 2013, the men's team has hovered around .500 for the past several seasons. Regardless, games at Ingalls are tons of fun. There's an energy and sense of anticipation in the air, especially for games against other Ivy League teams. When the Bulldogs play arch-rival Harvard or neighbor Quinnipiac, it's downright electric.
---
Heading To the Exits
Well, that concludes my list. I'm pretty sure that some of you may disagree with some of the rinks I included, or, even more likely, you think I left some off that should have made the cut.
Hey, I get it. I think with something like college hockey rinks, which are much more unique than professional arenas, there's bound to be differences of opinion. We all have our own individual tastes – you probably figured out from reading this that I like wooden ceilings. So, now it's your turn. Tell me what you think are the best college hockey rinks, especially if they're ones that weren't on my list. I love hearing what makes a rink stand out to somebody else, and maybe I or other readers will be inspired to take a road trip. Please leave your comments (or questions) below – thanks!