In today's post, I'm going to talk about some bucket list hockey road trip ideas. For a traveling hockey fan, these trips will be unforgettable experiences that will provide lifelong memories and an even greater appreciation of the game.
Since my last post, the Coronavirus (Covid-19) situation has certainly changed day-to-day life for most of us. Hockey and other sports have been put on hold at all levels around the world. Many businesses have shut their doors until further notice, either voluntarily or by government order. And, of course, travel restrictions have been put in place.
So, of all times, why would I choose now to write about hockey-related travel? No games are being played, museums and other destinations are closed, and it would be difficult or impossible to travel to most destinations anyway.
Well, I suppose it's because when something is out of reach, it becomes even more enticing. Just like how, in the middle of winter, people think about tropical beaches. Since travel isn't really feasible right now, my brain naturally started daydreaming, and I figured I might as well take the opportunity to write about some trips that I think should be on any hockey fan's bucket list.
There's another reason why I'm writing this post now, too. Some of these trips might be possible to do on the spur of the moment, but others will require a little more advance planning. Tickets may need to be purchased way ahead of time, school and/or work vacation schedules may need to be coordinated among whoever is going, and, as I mentioned in my post about building a backyard rink, it may take time to get the green light for a trip from someone else. 😉
As someone that loves hockey, the road trips in this post stand out to me as ones that would be memorable for any fan. Some of them involve going to games, and with that, there's always a risk that the game itself might be anticlimactic, but the point of going is more about the location, the atmosphere, and the experience. Kind of like how if someone goes to Paris for the first time, there's no way they're not going to go up in the Eiffel Tower. Even if it's foggy and the view sucks, it's still an iconic experience – one they'll always be glad they had, regardless of the weather, long lines, or whatever.
These hockey road trips hold that same magical, "glad you did it" quality for hockey fans. At least, I think they do. I confess that I haven't checked all of these off of my hockey travel bucket list, though I hope to someday. But I believe that they all are unique and memorable trips that will be treasured by any hockey fan that is able to experience them. And now, in no particular order, here they are.
---
Original Six Matchup
There's something that just feels different about a game between two of the NHL's Original Six teams. Even now, more than 50 years after the Original Six era ended with the league's 1967 expansion, and with 31 teams (soon to be 32) in the league, there's a little more excitement in the air for an Original Six match up. The players feel it, the broadcasters talk about it, and the fans get excited about it.
Why is that? Well, history is powerful. While all teams gain new fans on an ongoing basis, for some fans of Original Six teams, their rooting interest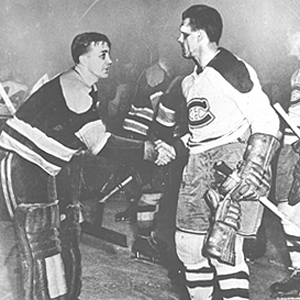 may have been passed down not just from their parents, but their grandparents or even great-grandparents. That means that the distaste for historic Original Six rivals probably got instilled a little more strongly than for newer teams.
Likewise, teams have narratives of their own history that naturally include stories about big moments from the past. Any of those stories from the Original Six era will, of course, reinforce the feelings of traditional rivalry among current players and fans.
No matter how it happens, the bottom line is that an Original Six match up doesn't feel like just any game, even if the two teams are in different conferences, even if they are far apart in the standings.
I've been to a few games between Original Six teams. I remember all of them, but I'll talk about one in particular.
My son asked me recently if I had even been at a game, in any sport, where something famous happened. He was talking more about seeing somebody break a major record, and I haven't seen that in person. Instead, I told him about the most famous (ok, infamous) sports incident I've seen in person, and it happened to be at a game with two Original Six teams.
When I was a kid, my dad and I went to a Bruins-Canadiens game at the old Boston Garden where Montreal's Chris Nilan hit the Bruins' Rick Middleton in the mouth with the butt end of his stick. Middleton lost a bunch of teeth; Nilan was thrown out of the game and got suspended for a bunch more. It's still brought up when people talk about the dirtiest incidents in NHL history.
Now, that's not why I think going to see two Original Six teams play is a must for hockey fans. Instead, it's a chance to see two teams with long histories play against each other, to soak in the tradition and passion that go along with those histories.
---
Quebec PeeWee Tournament
If you're not familiar with the Quebec International PeeWee Hockey Tournament, the fact that it's on this list should tell you that it's nothing like your typical kids hockey tournament. No, this tournament is to hockey what the Little League World Series is to baseball. Over 12 days in February, 120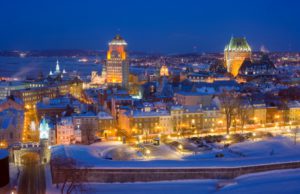 teams from 20 different countries turn Quebec City into the center of the youth hockey universe.
The tournament was founded in 1960, and the list of future stars that played in it as kids is a who's who of legends: Guy Lafleur, Wayne Gretzky, Mario Lemieux, and many more. Every year, there are 30-50 kids playing in the tournament that will eventually go on to the NHL.
The Quebec tournament isn't just for the most elite players and teams, though. It is organized into five divisions by competition level, so teams are matched up against appropriate opponents. For most of the kids, the tournament will be the first time they play in an NHL-caliber arena, sign autographs for fans, or have crowds numbering in the thousands cheering for them. Pretty cool experiences for 11- and 12-year-old kids.
This tournament is something that captures the attention of people of all ages throughout the hockey world, and many people outside of the hockey world. For the kids that play in the tournament, just participating is like finding the Holy Grail. Regardless of wins or losses, simply being part of it will be one of the highlights of their hockey career, even their childhood in general.
If going to the Quebec tournament isn't in the cards for you as a player or coach, I would still highly recommend going as a spectator.
---
European League Game
Most hockey fans are aware that there are differences between the North American and European styles of play. While these differences are not nearly as pronounced as they were decades ago, and continue to shrink all the time, they still exist. This is largely due to the difference in rink size; European hockey is played on rinks that are 15 feet wider than in North America.
What might be just as interesting to many North American fans is how different the experience of watching a European league game is compared to an NHL game. The atmosphere is intense but festive, even for regular season games. The seating capacity at the arenas generally is smaller than at NHL arenas, but the fans are passionate, with coordinated cheers and singing.
In every European country's top league, you'll have fun regardless of where you take in a game. That said, there are usually one or two teams in each league where the fan experience is especially memorable.
In Switzerland, that distinction goes to HC Bern. Bern is a powerhouse team in the Swiss league, having won 16 league championships, including five in the last 10 years. The team plays in PostFinance Arena; with a capacity of just over 17,000, it's one of the few hockey arenas in Europe that is comparable to NHL arenas in terms of size. But that doesn't diminish the character of the place. It has an interesting layout, with the stands higher on one side of the rink than the other. The fans are into it, singing songs before, during, and after the game. Overall, Bern is a great place to see a hockey game.
In Sweden, there are a couple places that offer an awesome fan experience. One is at Hovet Arena in Stockholm, home of the SHL's Djurgården franchise. Built in the 1950s and with a capacity of just over 8,000, Hovet definitely fits the classic image of European hockey games being played in more intimate settings.
Another option in Sweden is to check out a Frölunda game at the Scandinavium in Gothenburg. An interesting tidbit about the Scandinavium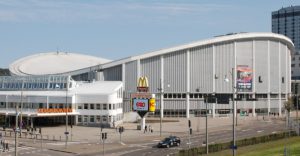 (pictured) is that from the outside, it bears a pretty strong resemblance to the Calgary Saddledome, thanks to its curved roof.
Some other European teams known to have a great atmosphere at their home games are HIFK Helsinki, the Sheffield Steelers in England, and Kölner Haie in Cologne, Germany.
Of course, for a North American fan that has never been to a game in Europe, just about any location will be interesting. The ones I've mentioned here might be especially fun, but that doesn't mean that others won't be a unique and memorable experience.
---
World Junior Championships
The World Junior Championships is one of the most entertaining hockey tournaments in the world. Featuring the best players under the age of 20, the talent level is extremely high. More than that, though, the passion of the players really stands out. That makes sense, as there is a lot at stake. Not only are they playing to make an impression on potential future employers, they're representing their country.
That combination of skill and passion is a gift for fans, who are just as invested in rooting for their country's team. But there's something else about the World Juniors that makes it so exciting. Like with the Quebec PeeWee Tournament, it's that feeling of seeing the future of the game. Sure, many of the players at World Juniors have already been drafted and clearly are very close to a professional career, whereas with the younger kids at the Quebec tournament, it's a little harder to predict who will turn out to be a star 8-10 years down the road.
Still, imagine seeing LeBron James play basketball during his senior year of high school. It was already a foregone conclusion that he was right on the cusp of superstardom, but there's something special about seeing big-time players before they reach the big stage. It almost feels like a discovery, as if you saw a no-name band at a small bar and then a few months later they've blown up and are playing huge stadiums.
Yes, that's fun. And that's one of the things that's awesome about being at the World Juniors. Along with the chance to appreciate everyone's pride in their country, regardless of which country. And, of course, being surrounded by thousands of other fans in what feels like a two-week hockey party.
---
End Of The Road
Well, I have some more road trips that I think belong on a hockey fan's bucket list, but I'm going to stop here for now. I'll either update this post with those ideas, or put them into a second post on the subject.
Now, I want to hear from you! Have you checked any of these road trips off of your list? If so, please share your memories! And I'm curious what other trips you would put in the "must" category for hockey fans, and why? Maybe your suggestions are ones that I'm already planning to write about, or maybe you have some that didn't occur to me. Either way, I'd love to know what you think.