The goal of today's post is to help you find the best youth hockey stick for your kid.  Just to be clear up front, there's no one-size-fits-all answer.  If there was, this would be a pretty short post!  But the reality is, there are a lot of options out there when it comes to youth hockey sticks, and what is best for each kid depends on a lot of things, including current skill level, size, playing style, expected skill development, and budget.  So, there's no way to make just one recommendation that will work for everybody.  Instead, I'm going to recommend several sticks that will be great options for different types of players and situations.
In the stick reviews, you'll see that I talk about flex and kick point.  If you're not familiar with these two things, or if you just want a quick refresher, you might want to take a look at my post explaining both of them here.  It'll be helpful background as you read about the sticks I review in this post so you can decide on the best stick for your kid.
Before I get into the products themselves, there's something I want to mention.  I have seen some other hockey sites that, like this site, participate in affiliate marketing programs.  As I mention in my disclosure statement, as well as in any post that contains affiliate links, when someone clicks on an affiliate link and subsequently makes a purchase from the linked website, the affiliate may receive a small commission (at no extra cost to the purchaser).
However, I've noticed some other hockey websites doing something that I find troubling.  Basically, they will have a post that lists their choices for the top products in a particular category (sticks, skates, gloves, whatever), but when I have clicked on the links in those posts and looked at the products on the retailer's website, guess what?  The eight (or 10, or however many) products they reviewed and recommended just happen to be the eight (or 10, etc.) most expensive products in that category on the retailer's website.
What's the significance of that?  Well, you know the commission that I mentioned that affiliates (including myself) are paid when we refer a customer to a partner retailer's site?  Those commissions are based on a percentage of the purchase amount.  So, if someone clicks on an affiliate link and buys a $150 stick, the affiliate probably will make 3x more than if the person bought a $50 stick.
There's something that rubs me the wrong way when all of the products that an affiliate (who is making commissions) recommends just happen to be the most expensive products that the retailer sells in that category.  At best, it seems shortsighted and not understanding the range of factors that customers consider.  At worst, it seems downright fishy, like they don't even care about customers' needs – a money grab, basically.
Now, I want to make two things very clear.  First, I have seen this focus of only promoting or recommending the most expensive products on a few hockey websites; I have seen plenty that are more balanced.  Second, I don't think that every time a site recommends an expensive product that there is something questionable about their recommendation.  For some players/situations, the features in expensive products provide benefits that are worth the extra cost.
Still, it bothers me that some sites – whether out of greed or a lack of customer awareness – are only recommending the priciest products.  Many players don't need the most expensive gear.  Either the difference in performance isn't worth the extra cost to them, or – and this is especially true with kids – their skills aren't at a level where the most expensive gear will help their performance at all, and in fact it might even hurt their performance.
Ok – my rant is over.  Now that I've gotten that out of my system, here are my thoughts on some great options for youth hockey sticks.
Note: As an Amazon Associate, I earn from qualifying purchases.
---
Frontier 1500 Wood
Let's be real.  If a kid is completely new to hockey, they really don't need a carbon fiber stick at the beginning.  They won't be able to take advantage of the more advanced technology until they've been playing for a little while and have started to learn some basics of shooting technique.
That can take a while for younger kids, and they could outgrow a stick or two before they even reach the point where a composite stick makes sense.  Until then, there's no need to waste money on fancier sticks.  A basic wood stick will serve them well, and save parents some money.
The Frontier 1500 is a solid option for a wood youth stick.  It has an ABS blade, so it can be used for street hockey as well as on the ice.  And besides being available in left and right curves, it's also offered with a straight blade.  If you're not sure whether shooting left or right will feel more natural for your kid, a straight blade lets them make the choice.  Also, it helps them develop their backhand, which is an underdeveloped skill for many kids.
All in all, this is a reasonably-priced first stick for a young beginner.
The details
Length: 43″
Weight: Unknown
Flex: NA
Kick point: NA
Pros: Curved or straight blade available; bargain price; good for ice or street
Cons: Stick won't keep up if kid's skills develop before they physically outgrow stick
Best for: A kid that is a total beginner

---
STX Stallion HPR 2
STX entered the hockey market about six years ago, but is a well-established brand in the lacrosse world.  With the Stallion HPR 2, the company offers a quality stick that happens to be one of the best-priced youth carbon sticks you'll find.
This stick has a variable kick point, which will help transfer power into any type of shot.  It also uses two different types of carbon fibers on the blade.  The one on the forehand side provides a more explosive shot release, while the one on the backhand side is lighter to reduce the stick's overall weight.
I only have one quibble with the youth version of the Stallion HPR 2.  It comes in a lie 6, meaning it has a slightly more upright angle where the blade meets the shaft.  Given that a lot of young players need to bend their knees more when they skate, I'm a proponent of a lie 5 for kids, as it encourages them to get lower.
That's more my personal preference, though.  I understand that not everyone will share my thinking on that, and I think this is a very good stick for a kid that is ready for the performance features of a carbon stick.
The details
Length: 45″
Weight: 325 grams
Flex: 40
Kick point: variable
Pros: Good shooting stick; reasonable price; higher flex rating than most youth sticks
Cons: Weighs more than many other youth sticks
Best for: A kid that is ready for a carbon stick and wants to maximize their shot

---
CCM JetSpeed Youth
For another option for a stick with a hybrid (variable) kick point, check out the CCM JetSpeed.  This stick provides good feel when handling the puck thanks to a vibration-dampening layer inside the blade.  On top of that, the JetSpeed's hybrid kick point gives young
players both a quick release and a pop of power on their shots.
The kids might be drawn to this stick because of the cool colors, or the fact that it comes with a Connor McDavid blade pattern, but it's the performance that makes this stick a good choice, especially in the 20 flex and 30 flex versions.
The details
Length: 43″ (20 flex), 45″ (30 flex)
Weight: 302 grams
Flex: 20 or 30 (40 also available)
Kick point: hybrid
Pros: Good feel for puck; enhances shot release and power
Cons: Short-ish stick lengths
Best for: A kid that likes to shoot and might need more shot power

---
Warrior Covert QR Edge
Like STX, Warrior started out as a lacrosse brand; the company expanded into hockey in 2005.  The Covert QR Edge is an excellent youth stick that contains a lot of the same technology found in the senior version that is used by NHL stars like Dylan Larkin and Max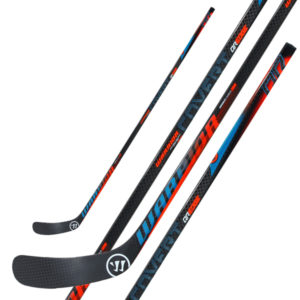 Pacioretty, among others.
The stick features an angular edge taper in the lower part of the shaft into the blade.  This taper provides stability so the blade doesn't twist or torque when shooting, making shots more accurate.  The stick is well balanced and has good feel for passing and stickhandling.
The most noticeable feature about the Covert QRE is that it has an ultra-low kick point.  That allows a player to "load" the stick easily, and get shots off extremely quickly – both very helpful for younger players.
The details
Length: 47″
Weight: 311 grams
Flex: 30
Kick point: ultra low
Pros: Extremely fast shot release; good puck feel
Cons: Sacrifice some shot power for fast release
Best for: A kid that needs to get shots off quickly from in close (i.e., most kids)

---
Bauer Vapor Flylite Griptac
At the top end of the youth stick spectrum when it comes to both performance and price is the Bauer Vapor Flylite Griptac.  This stick has a blade that is light, but very strong and durable.  The redesigned taper has an elliptical shape, which increases stability and shot control.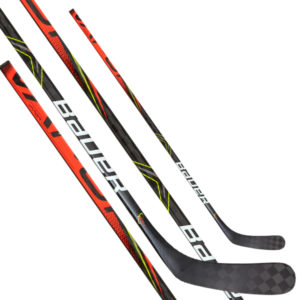 With a low kick point, the Flylite is designed for a fast shot release.  Perhaps the biggest difference between the Flylite and other youth sticks, though, is the weight.  With all the structural features built into this stick, it's amazing that it is so light.  Like I said above, not every kid will benefit from a top-end stick.  If you are looking at the fancy segment of the market, though, this is a great stick.
The details
Length: 46″
Weight: 280 grams
Flex: 20
Kick point: low
Pros: Great release speed; lightweight
Cons: Price
Best for: A kid that knows how to shoot and can maximize the stick's features

---
Take Your Shots
I'd love to hear from you about your experience with youth hockey sticks.  If you or your kid has used any of the models I talked about in this post, what did you think of them?  Do you have any other youth sticks that you would recommend?  Please leave your comments as well as any questions below – thanks!
---
Note: This post contains affiliate links.  If you click on an affiliate link and subsequently make a purchase from the linked website, I may receive a commission.  The reviews and recommendations on this website are based on my own personal experience and research, and are not influenced by my affiliate status.  I will always give my honest opinions to help you make informed decisions.