There are a lot of hockey stickhandling training tools out there, so I thought I would write about some of my favorites that can be used for off-ice training.  Compared to just a couple decades ago, the number of products available to help players improve their stickhandling skills has blown up.
That's mostly a good thing, but while a lot of these training aids can be helpful, some definitely are better than others.  And, there are some instances where a homemade version is much cheaper and functions just as well – or at least close enough that for most people it will do just fine.
With that said, let's check out what I think are some of the best off-ice training tools to help develop stickhandling skills.
Note: As an Amazon Associate, I earn from qualifying purchases.
---
Green Biscuit
You might be familiar with Green Biscuit already, but if not, this is an amazing product.  The Green Biscuit is a puck designed specifically for off-ice stickhandling and passing practice.  Created by former NHL defenseman Tom Pederson, it has a unique design that allows the puck to glide smoothly across concrete and asphalt, replicating the feel of a real puck on ice incredibly well.
The company has three main products: the original, the Pro, and the Snipe.  The first two are designed specifically for stickhandling and passing work, while the Snipe is meant for shooting.  Since we're talking about stickhandling training products in this post, I'll focus primarily on the original and Pro versions here.
Original
The original Green Biscuit is made of two pieces of plastic connected with three metal bolts, with rubber spacers sandwiched between the plastic pieces.  This design provides shock absorption so the puck doesn't lift up and flip over.  The puck is the exact same dimensions as
a regular puck (1″ tall and 3″ in diameter), which makes stickhandling feel just like on the ice, not just in terms of how the puck glides, but also how high you have to lift your stick over the puck as you handle it.
The original weighs 4.4 ounces, while a regular ice puck weighs six ounces (the blue pucks used on ice in Mites weigh four ounces).  The reason for making the Green Biscuit at a lighter weight than an ice puck is because the friction from rough surfaces makes it feel slightly heavier, meaning just like a regular puck on ice.
As I mentioned above, the original is intended for stickhandling and passing work, but it isn't made for shooting.  People do shoot with it, and I suppose if you're not shooting hard and the puck isn't hitting anything hard it might be fine, but if your shot hits a goalpost or a wall hard enough, there's a good chance the puck will break.
Pro
The design of the Pro version is almost identical to the original, with just two slight differences.  One is that the vertical edges of the puck have a white rubber grip that makes it feel even more like a regular puck on the stick blade.  The other difference is that the Pro version weighs 4.7 ounces compared to the 4.4 ounces for the original.  This still allows for the increased friction of rougher surfaces compared to ice, so it still feels like a regular puck on ice, but just that tiny bit of extra weight gives it added stability.  Like the original, the Pro version isn't made for shooting.
Snipe
The Snipe version of the Green Biscuit also has the same dimensions as a regular puck, but it is designed to stand up to the rigors of shooting.  It glides well, but is a small step down from the original and Pro versions in that department.
---
Overall, I can't recommend the Green Biscuit highly enough.  For stickhandling purposes, from my personal experience, I have a very slight preference for the original over the Pro, but if I was using it on rougher pavement I might go with the slightly heavier Pro.  In any case, to check prices for the Green Biscuit, click here.
---
Better Hockey Extreme Stickhandling Trainer
The Extreme Stickhandling Trainer from Better Hockey is built to develop fast, soft hands.  While there's no single product that can make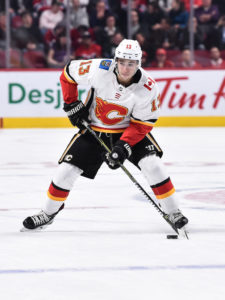 someone stickhandle as well as Patrick Kane or Johnny Gaudreau overnight, this is an extremely effective tool that will help players of all levels make noticeable improvements.
The Extreme Stickhandling Trainer is made up of five sections with hinged connections, so it can be configured in a variety of different ways.  This allows you to mix up your training, focusing on the specific stickhandling movements that you want to master.
The trainer is just over 2.5 inches tall, so it can be used with regular pucks and dryland training pucks like the Green Biscuit, as well as most stickhandling training balls.  Stickhandling balls are designed to contact the stick blade at the same height as a puck; since pucks are one inch tall, stickhandling balls are generally two inches tall, so they'll easily fit under the Extreme Stickhandling Trainer.
One other nice thing about this trainer is that unlike some similar products, it can be used both off and on the ice.  And it's lightweight (about 3.5 lbs.) and easily folds up to a compact size for storage and portability.
The thing that separates the Extreme Stickhandling Trainer from other trainers, in my opinion, is the versatility.  There are lots of trainers out there, but most don't have hinged connections, so they can't be set up in different configurations.  Compared to the others that do have hinged connections, I prefer Better Hockey's product because I think it's a better value.  They also make a Pro version that has seven sections instead of five, but I think the smaller one will more than meet most people's needs.  You can check pricing on the five-section Extreme Stickhandling Trainer here.
---
Hockey Wraparound
The Hockey Wraparound is a plastic protective sleeve that fits around the blade of a stick, allowing players to use an ice stick for off-ice play without damaging the blade.  This is a great idea – sticks are expensive, and nobody wants the blade of their good stick getting chewed up and ruined from using it in the driveway or street.
The Wraparound is made from a durable but very lightweight plastic – it weighs only 39 grams (less than 1.4 ounces) – so the change in how the stick feels is negligible.  It also has a wear indicator so a player knows when the product is getting close to the end of its lifespan.
One of the nice things about the Wraparound is that it can be put on a stick and taken off multiple times, as long as the blade curves the same way.  It comes uncurved, so it can be used for either a left or right curve, but once it has been on a curved blade it won't fit quite as well if it's moved to a blade that curves in the other direction.
On a related note, the Wraparound will fit senior, intermediate, and junior sticks, but not youth sticks.  It will need to be trimmed to fit an intermediate or junior stick; the packaging has instructions on where to cut if needed for your stick size.
There are a couple other things that I want to mention about the Wraparound.  The first concerns tape on the stick blade, both underneath and over the Wraparound.  You should tape the stick blade before putting the Wraparound on, because it helps it grip the blade.  The company recommends taping over the Wraparound as well to keep it from sliding off.  Some people only tape over it around the heel and toe of the blade if they're just doing stickhandling work, but for hard shooting, especially slapshots, you should tape the entire length of the blade so the Wraparound doesn't come off.
Also, for old-school players who are still rocking a wooden stick, I'm afraid the Wraparound isn't going to be an option.  The blades on wooden sticks are thicker than the blades on carbon sticks.  The Wraparound is designed to fit snugly on carbon sticks, so it doesn't fit well on the wider wooden blades.
Overall, I think the Wraparound is a great solution to the common problem of wanting to use the same stick for off-ice training as on ice, without ruining the blade.  Street hockey sticks are always an option, of course, but they usually are much lower quality than the sticks players use on the ice, and the difference in feel is significant.  And given that a street hockey stick typically costs about the same or more than a Wraparound, the Wraparound is a much better value.  To check pricing on the Hockey Wraparound, just click this link.
---
PVC Pipe and Toilet Paper Tube
Yes, I know that this one sounds a little different, but trust me, this DIY training tool is an excellent way to work on a few key building blocks required for stickhandling prowess.  Part of having soft hands is the ability to have a loose bottom hand on the stick that slides up or down easily as you move the puck around.  Directly related to that is the ability to control the stick's rolling, back-and-forth motions with the top hand.  The video below gives a really good demonstration of this.
Sliding a piece of PVC pipe (6″ long, 1.5″ diameter) over the shaft of the stick and holding the pipe, rather than the stick, with the bottom hand forces a player to use the top hand to control the stick and keep the bottom hand loose.  A toilet paper or paper towel tube can be used for younger players.  The PVC pipe may be too big for their smaller hands, and it also is even better at teaching them to keep a loose grip with the bottom hand since if they squeeze too tightly they'll crush the cardboard.
There are products that perform a similar function, and they work well, but this is one of those cases that I mentioned earlier, where I think the homemade version offers virtually the same performance at a much better price – so, I recommend going the DIY route on this one.
Still, for anyone who is interested, the Danglator is very effective and, while of course it costs more than a short section of PVC pipe or the tubes from toilet paper or paper towel rolls that you would buy anyway, it's still relatively inexpensive.
---
Ok, now you know some of my favorite stickhandling training tools.  I have to say, I wish some of these had been around when I was a kid!  Anyway, I'd love to hear from you.  Do you use any of the tools I wrote about in this post, or any others to help with your stickhandling skills?  If so, please tell us which ones you like or don't like – it's always fun to hear what works for other people!  Please leave your comments or questions in the space below – thanks!
---
Note: This post contains affiliate links.  If you click on an affiliate link and subsequently make a purchase from the linked website, I may receive a commission.  The reviews and recommendations on this website are based on my own personal experience and research, and are not influenced by my affiliate status.  I will always give my honest opinions to help you make informed decisions.