I need a haircut. Need one pretty badly, in fact. As I was trying to figure out when I'll squeeze that in this weekend, I imagined the consequences of waiting a little longer before getting it cut.  That, in turn, led my thoughts to the topic of hockey hairstyles.
So today, I'm going to write about some hockey players that have left a mark on the game. Not just through their play, but through their hair.
I will say, even though there are eight players featured in this post, this is not a "top eight" list (or a bottom eight list, depending on your perspective). Just as the greatness of a hockey player can't be measured by statistics alone, I feel that great hockey hair, like art, is subjective and hard to quantify.
So this group of players is not intended to be a definitive list, just some of the ones that are memorable to me. I may do another list down the road; there definitely are plenty of candidates. You'll see that this list includes players who are among the all-time greats, and others who are not. The common denominator is that their hair added to their legacy.
With that, let's get to it!
---
Rob Brown
Rob Brown had a decent career that included one monster year in his second NHL season, when he scored 49 goals and 115 points (in just 68 games) for the Penguins. He scored 80 points the following season, but after that, he didn't put up great numbers again in the NHL.
To be honest, I thought he had more big seasons than he did. That's probably because he made such a big splash as a young player. Not only was he filling the net, but he was dating Alyssa Milano – and he had the hair! But Brown got traded away in the 1990-91 season. Why was he expendable? Well, there's only room for so many high-scoring, mullet-rocking right wings on a roster…
Jaromir Jagr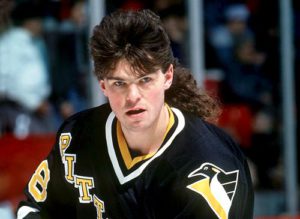 Yes, Jagr arrived in Pittsburgh for the 1990-1991 season with ample supplies of both skill and hair. For some reason he kept going with the Billy Ray Cyrus look for at least a decade. He cut it shorter for a while, but as he gradually became one of the elder statesmen in the league, he brought it back – maybe to show the younger players how things used to be. Kind of like how I make my kids listen to Ace of Base.
Jagr is a legend, obviously. He's third on the NHL's career lists for goals and games played, and second in points. But his mystique is amplified because of his flow. How many other players have inspired a group of impersonators that travel around to games?
I don't really make my kids listen to Ace of Base.
Mike Ricci
With Mike Ricci, the hair is great on its own, but when it's combined with the nose and the missing teeth, the look is next level. When Ricci played for the Avalanche, after they won the Stanley Cup in 1996 a local magazine named him the "sexiest man in Colorado" or something like that. Who could argue?
His teammates, apparently. Asked about his hair, Ricci once said in an interview that "The boys tell me it looks like I comb it with a pork chop." Not sure who those teammates were, but Ricci retired in 2007, and hey, we're still talking about his hair today, so… Ricci 1, Haters 0.
Erik Karlsson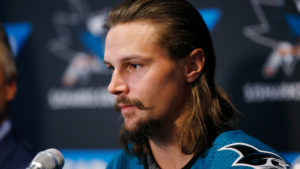 In June, Erik Karlsson signed a new contract with the Sharks worth a total of $92 million over eight years. That's pretty nice, but you know what probably puts an even bigger smile on his face? The fact that by a vote of the NHL Players Association, he was judged to have the best hair of any player in the league. Good thing he got the big new contract, because hair like that probably isn't cheap to maintain.
Karlsson is a great player, too. He's won the Norris Trophy as the league's best defenseman twice, so he's not getting paid just because of his hair. But it doesn't hurt.
Al Iafrate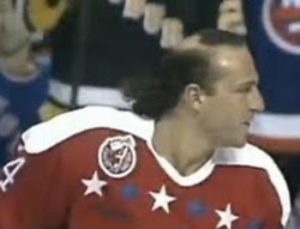 Iafrate (aka "The Planet"), who also made an appearance in my hockey nicknames post, started losing his hair on top when he was still in his 20s, but that didn't stop him from growing the lettuce nice and long in back. Look at his picture – he might not have invented the skullet, but he pretty much perfected it.
By the way, the picture is from the 1993 all-star game; Iafrate was not quite 27 at the time. Sadly, he has abandoned his groundbreaking hairstyle in recent years, choosing to go with a clean-shaven look. Ah, well – at least we have the memories.
Guy Lafleur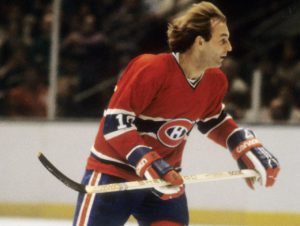 Known as "Le Démon Blond" to French-speaking fans, Guy Lafleur wasn't simply a superstar, he was an icon. When I was a little kid, before I played or followed hockey, I knew the names of only three hockey players; Guy Lafleur was one of them.
He had the "it" factor that puts people on the edge of their seats, not just because of what he could do, but how he looked doing it. Bobby Clarke once said that the phrase poetry in motion was invented for how Lafleur played. In his prime, he was the fastest skater in the league, shot the puck as hard as anyone, and was the leading scorer on the best team.
Lafleur wore a helmet for his first three seasons in the NHL, and while he was OK, he wasn't producing the kind of offense expected when he was drafted first overall in 1971. After his third season, he ditched the helmet and let the locks flow. He then had six straight seasons with at least 50 goals and 100 points. Coincidence?
Ryan Smyth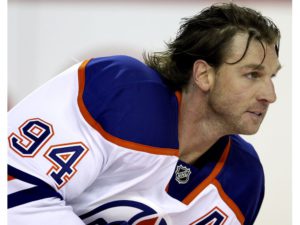 Ryan Smyth was known by hockey fans for three things:
Using a really short stick with a huge blade, which helped him score the rebound and deflection goals that were his bread and butter;
Being "Captain Canada" – he served as captain of the Canadian team in the World Championships a record six times; and,
His mullet. If Oilers fans had their way, Smyth's flow would be on the provincial flag of Alberta.
Ron Duguay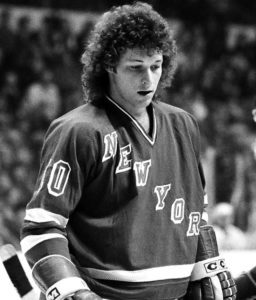 Duguay was a good player, but his hair was a superstar. In his years with the Rangers he was known to hang out at Studio 54 with celebrities like Andy Warhol and Cher, among others. He married a Sports Illustrated swimsuit model.
Here's my theory – Duguay's hair is like the fountain of youth. He's in his early 60s now, and looks like he could still play. The hair is a little shorter than back in the days when he was starring in a Sassoon Jeans commercial, but it's still impressive.
---
And Now, We're At The (Split) End…
See what I did there?
Anyway, I hope you enjoyed reading this post as much as I enjoyed writing it (and pulling together the pictures). Which of these players do you think has the best hockey hairstyle? What other players do you think have great hockey hair (remember, I'll probably do another post in the future)? Please let me know, and of course leave any other comments and questions below.