This site is called My Hockey Bag, but since anyone who's interested in hockey bags and equipment is also pretty likely to be interested in hockey in general, I thought it would be fun to write a post about some of the best hockey nicknames over the years.
Of course, what "best" means when it comes to nicknames is very subjective, so I'll just say right from the get go that these are some of my personal favorites. And I'll also add that the list is incomplete, so I might do another nicknames post at some point down the road.
As always, I'd love your feedback in the comments section below. Share your favorite memories of these players, or tell me which nicknames would make your list. Let's have fun with this!
Ken Linseman – The Rat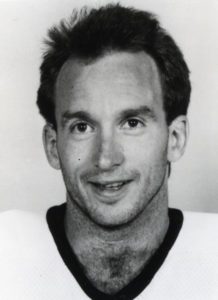 Kenny The Rat got his nickname because his opponents thought he was like the rodent – small, quick, dirty, and extremely annoying. They saw him as a guy who took cheap shots and then scurried away to hide behind bigger teammates. Linseman fought plenty of his own battles too, though. He was one of my favorite players growing up, but after watching some old videos on YouTube, I can understand why he wasn't popular with opposing teams.
Still, this guy was a very good player, averaging almost a point per game over his NHL career. He scored the series-clinching goal in three series in the 1984 playoffs for the Oilers, including the finals.
In a weird (for me, anyway) side note, The Rat was traded after the 1984 playoffs to Boston, my favorite team as a kid, straight up for Mike Krushelnyski, who was another of my favorite players.
Georges Vezina – The Chicoutimi Cucumber

This one is the oldest nickname on the list, but hey, quality stands the test of time. People probably also remember the nickname because of the guy behind it – Georges Vezina. Yes, as in the Vezina Trophy, the NHL's annual award for the best goalie. He played 16 seasons for the Canadiens, including seven in the NHA, the predecessor to the NHL.
The nickname itself doesn't exactly roll off the tongue, but it's memorable and has solid logic behind it. Vezina was from the town of Chicoutimi, Quebec, and stayed cool and calm when he was in goal.
Gary Smith – Suitcase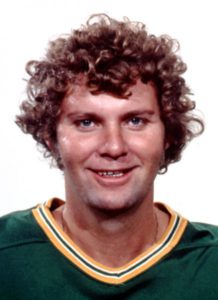 Suitcase Smith was a professional goalie from the mid-1960s to 1980. He played for seven different NHL teams (eight if you count two separate stints with the Minnesota North Stars), two WHA teams, and six minor league teams (some more than once). In his first three pro seasons, between call-ups, demotions, and being loaned to other teams, he switched teams eight times.
Smith is also memorable because he had a strange habit during games he played. Between periods, he would take off all his equipment, take a quick shower, and then get all his stuff back on before the intermission was finished. Pretty impressive, actually.
Felix Potvin – The Cat
Yes, Felix The Cat, as in the cartoon from back in the day. It's a good nickname for a goalie who had quick reflexes – that's right, like a cat! Potvin was a popular goalie who in 1993 was a finalist for the Calder Trophy as rookie of the year and helped the Maple Leafs get to game 7 of the conference finals. Unfortunately, except for the first few years of his career, he was stuck on teams that ranged from mediocre to outright bad.
For a lot of non-Leafs fans (and maybe even some Leafs fans too), Potvin is best remembered for his epic goalie fight with Ron Hextall.
Curtis Joseph – Cujo
From cats to dogs… Curtis Joseph's nickname is pretty straightforward – just take the first two letters from his first and last names to form the name of the rabid dog from the Stephen King book.
Unlike a lot of the other nicknames on this list, it doesn't actually fit Joseph's personality or playing style. He was a popular player and by all accounts an extremely nice guy, but the nickname was too easy not to go with it.
Another interesting side note: In a poetically reverse-anthropomorphic version of a dog chasing a cat, Felix Potvin was made expendable in 1998 when the Maple Leafs signed Cujo as a free agent.  And yeah, I just described something as poetically reverse-anthropomorphic on a hockey website, so… yep.
Nikolai Khabibulin – The Bulin Wall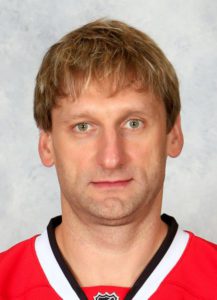 This is the last goalie on the list, in case you were curious. Nikolai Khabibulin was a very good goalie, and his perfect-for-a-goalie nickname and corresponding cool mask made him even more fun to watch.
The Bulin Wall had the misfortune to play on weak teams for a good chunk of his career, but he made them better, and when he had a good team in front of him, he was one of the best. He was the first Russian goalie to win a Stanley Cup, with the Tampa Bay Lightning in 2004, and also won Olympic gold and bronze medals with Russia.
Pat Verbeek – Little Ball of Hate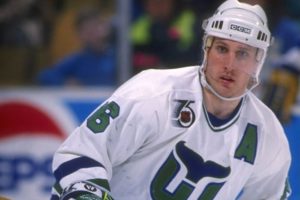 Pat Verbeek's nickname is pretty self-explanatory. He was short and stocky, and played the game with a rare combination of skill and surliness. He's the only player in NHL history with over 500 career goals and over 2500 penalty minutes.
In case that doesn't convince you that Verbeek was not just talented, but also very tough, here's a story for you. The summer after his second NHL season, one of his thumbs was cut off by a piece of farming machinery. After his dad and brother rushed him (and the thumb) to the hospital, it was surgically reattached. Verbeek joked that since the thumb fell into a pile of manure, after being reattached it grew bigger than the one on his other hand.
Stu Grimson – The Grim Reaper
Stu Grimson was 6'6" and 240 lbs, and was a scary fighter for many years. You can figure out the nickname's origins, I'm sure.
The interesting thing about The Grim Reaper, given his role when he played, is that he's been a born-again Christian since early in his career. Grimson went back to school after retiring from playing and finished his undergraduate degree, then got a law degree.
Al Iafrate – The Planet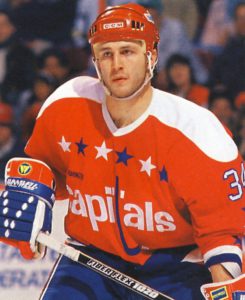 Al Iafrate was one of the more memorable characters in hockey history. A tattooed, Harley-riding, heavy metal fan, Iafrate was sometimes seen smoking a cigarette before a game while working on his sticks, completely naked. A sportswriter gave him the nickname because some people thought he was "out there," but it had a double meaning because of Iafrate's other-worldly physical abilities.
Even though he had injury problems throughout his career that forced him to retire early, the guy had loads of talent. He was a four-time all star, and not only had the fastest skating time in the NHL skills competition one year, he also won the hardest shot competition all three times that he participated. His mark of 105.2 mph in 1993 (with a wood stick!) wasn't topped for 16 years.
Note: Iafrate was so cool, he had a second nickname; he was also called Wild Thing, but I associate that nickname with baseball, and besides, only one nickname per customer on this list.
Until Next Time…
Like I said at the top, it's entirely possible that I'll do another nicknames post in the future – there definitely are plenty of good ones that I didn't include on this list.  Update: I've done a couple more nickname posts, but instead of nicknames for individual players, I wrote about nicknames for forward lines.  Check out Part One and Part Two, and let me know what you think.
In the meantime, I hope you enjoyed reading, and please leave comments!