A while back, I wrote about what I consider some of the best hockey nicknames, and said that I probably would be doing another nicknames post in the future. Well, the future is now – and if that breaks your space/time continuum, well, sorry (not sorry).
There's a twist, though. Today I'm not going to be writing about nicknames for individual players. Instead, I'm going to be writing about the best hockey nicknames for forward lines.
Why am I doing a whole post just about forward line nicknames? Well, to put it simply, because there are enough good ones to dedicate an entire post to them. Or actually, even more than one post. I'm also planning to do a separate post at some point about goalie nicknames, for the same reason. Hockey just happens to have had a lot of great nicknames over the years, so as long as I'm going to be doing multiple nickname posts, I figure I might as well organize them by categories.
Anyway, enough explanation already, let's get down to it! Here are some of my picks for the best hockey line nicknames.
The Triple Crown Line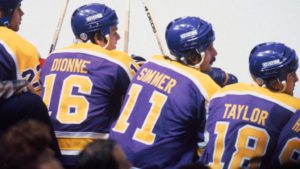 For a little more than five years from 1979 to 1984, the Los Angeles Kings had one of the best lines not just of their generation, but of any generation. The Triple Crown Line – which consisted of Dave Taylor at right wing, Marcel Dionne at center, and Charlie Simmer at left wing – was one of those lines where each player brought something different to the table, rather than all playing the same style.
Taylor was a buzz saw, a tenacious forechecker who excelled at winning puck battles in the corners. Dionne, already an established superstar when the line was put together, was a finesse player with elite playmaking skills. And Simmer was a great finisher. Not a great skater, but he had a big frame and soft hands, so when he planted himself in front of the opposing net, he was hard to stop.
After being put together midway through the 1978-1979 season, the Triple Crown Line stayed intact for the next 5 1/2 seasons, except for stretches where one of the three players was injured. Given that the Kings were mediocre (or worse) for much of the Triple Crown Line's existence, some people questioned if the line should have been broken up to give the Kings more balanced scoring from all lines.
I understand that argument, but in this case I don't think that would have helped the Kings. Their problems back then were more about defense and goaltending, and besides, part of what made the line so potent was the chemistry. The numbers bear that out: over the first two full seasons that they played together (1979-1980 and 1980-1981), Taylor, Dionne, and Simmer averaged 51 goals and 112 points per player!
That is just nuts. I know there was much more scoring back then in general, but even for that era, those are incredible stats. In 1980-1981, they became the first line in NHL history to all score at least 100 points in the same season.
The Triple Crown Line was broken up early in the 1984-1985 season when Simmer was traded to Boston. Still, the memorable nickname is fitting, because they had a long reign as one of the best lines in hockey history.
The Diaper Line
This one might not be as well known to some fans. The Diaper Line was made up of David Jensen at left wing, Pat Lafontaine at center, and Ed Olczyk at right wing. This line was the top line for the 1984 U.S. Olympic team. That team is a footnote for a lot of U.S. hockey fans simply because they weren't the Miracle on Ice team, but the Diaper Line has a great backstory and were an electrifying unit during their time together.
The 1984 team was, and remains to this day, the youngest in U.S. Olympic hockey history; the average age was just 20.7 years old. Even within that group, the members of the Diaper Line were young – the three youngest players on the team, in fact. Jensen and Lafontaine were 18, and Olczyk was 17.
Still, they were the top three scorers on the team both in the six-month schedule of games they played prior to the Olympics and at the Olympic tournament itself. At the latter, the trio scored more than half of the team's total goals.
All three were first-round picks in the NHL draft – Jensen and Lafontaine in 1983, and Olczyk in 1984. Lafontaine became a superstar, scoring over 1000 points before his career was cut short by concussions. He was inducted into the Hall of Fame in 2003.
Jensen, who was a lightning-fast skater, was selected in the first round of the NHL draft just after finishing his junior year of high school. Unfortunately his career after the 1984 Olympics was plagued by injuries. In eight pro seasons, he was limited to 301 total games, the majority in the minors and in Europe. Nowadays he is the owner of a hockey training center in Massachusetts.
Olczyk went on to have a long and productive playing career in the NHL, picking up 794 points in 1031 games. After retiring from playing, he has mostly been in broadcasting, except for a two-year stint as the Penguins head coach from 2003-2005. Olczyk currently is an analyst for NBC Sports, as well as the Chicago Blackhawks. He was inducted into the U.S. Hockey Hall of Fame in 2012.
The French Connection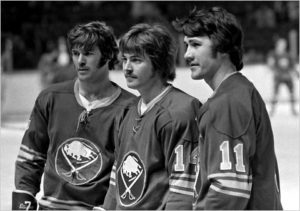 Time for a little refresh on pop culture history to set the stage here. The movie The French Connection came out in 1971. It won five Oscars, including Best Picture, and was an instant classic, an iconic film.
In 1972, Buffalo Sabres coach Joe Crozier put together a line of Rick Martin at left wing, Gilbert Perreault at center, and René Robert at right wing. Since all three players were French-Canadian, the line was nicknamed The French Connection in reference to the movie. Just like the movie, the line was an instant classic, and it had staying power; the line stayed intact for seven seasons.
Perreault (at right in the picture above) was a smooth skater, a creative playmaker, and an amazing stickhandler. Martin (at left in picture) was a sniper who averaged more than 40 goals per season over the line's seven seasons together. Robert (at center in picture) was a very well-rounded player: strong on his skates, able to grind in the corners, defensively responsible, in addition to very good offensive skills.
As a unit, The French Connection was not only one of the best lines ever assembled, but also one of the most exciting to watch. All three players seemed to have an innate understanding of the others' styles, and that allowed for some beautifully creative offensive play.
The line was broken up in 1979 when Robert was traded. Even though each player had success apart from the others too, they were magical together. That's symbolized in how the Sabres handled the retired numbers of the three players. Perreault's number 11 was retired in 1990; Martin's 7 and Robert's 14, in 1995. At the ceremony for Martin and Robert, Perreault's number was lowered, then raised again with those of his linemates under a French Connection banner.
The Production Line
Over a period of five seasons from 1947-1948 to 1951-1952, the Detroit Red Wings' Production Line – Ted Lindsay at left wing, Sid Abel at center, and Gordie Howe at right wing – was a dominant force in the NHL. The nickname was an homage to the auto industry that defined Detroit at the time, but it also was a perfect fit given the line's offensive output – reliable, inevitable, and seemingly unstoppable.
During the five years they played together, the Production Line led Detroit to two Stanley Cups and four first-place finishes in the regular season. In the 1949-1950 season, they were the top three scorers in the league, something that no other line has accomplished since.
While the Production Line had excellent chemistry together, they were all great players on their own. All three are in the Hall of Fame, and had their numbers retired by the Red Wings. Gordie Howe (at center in picture above) needs no explanation, but I will mention the record of his that I think is the most amazing – he finished in the top five in league scoring for 20 consecutive seasons.
Sid Abel (at right in picture above) is sometimes overlooked by modern-day fans, or thought of as just a lucky beneficiary of playing with Howe and Lindsay, but that's not the case at all. Abel was already the captain of the Red Wings and a star in the league in the early 1940s, before the other two turned pro. He missed three seasons when he was in his prime due to military service during World War II, but picked up where he left off after returning.
Ted Lindsay's (at left in picture above) achievements on the ice are impressive: he led the league in scoring in the 1949-1950 season, he was named a First Team All Star eight times, and he played on four Stanley Cup-winning teams. But it's Ted Lindsay's character and principles that make him a legend.
In 1957, Lindsay, along with Montreal's Doug Harvey, spearheaded the establishment of the first NHL Players Association. As retribution, Detroit's ownership traded Lindsay to Chicago, the worst team in the league – despite the fact that Lindsay had just scored a career-high 85 points, second-best in the league.
When Lindsay was inducted into the Hall of Fame in 1966, he refused to attend the ceremony, which at that time was open to men only. Lindsay said that his wife and kids were a big part of why he was able to have the career that he did, so if they couldn't share the moment with him, he wasn't interested. The next year, the Hall of Fame changed its policy to allow women and families.
We've Reached The End Of The Line (For Now)
That's right – another ending to a post, another bad pun. I don't know why…
Anyway, this is just the first installment in the best hockey line nicknames department. There are enough to write at least one more post, so keep your eyes peeled for that.  Update: I added a second post on this subject, please check it out.
In the meantime, I'd love to hear what you think about these line nicknames. Would these make your list of favorites, or do you have others that you prefer? Please leave your comments and questions below!