Father's Day is tomorrow. I've already written about gift ideas for dads who love hockey, and paid tribute to hockey moms, but I wanted to write another post about the connection between hockey and dads. A lot of this is about my dad, but I think that the themes are pretty universal within the realm of dads and hockey, so I hope that this resonates with you.
First, Some Famous Hockey Fathers and Sons
There are some notable hockey players with equally notable hockey dads. Perhaps more than any other sport, it seems like hockey excellence frequently gets passed down through bloodlines. Gordie Howe played professionally with his sons Mark and Marty; both Gordie and Mark are in the Hockey Hall of Fame, as are Bobby Hull and his son Brett.
There have been plenty of other father-son combinations who both played in the NHL; too many to list here, but just off the top of my head, some of the currently-active sons have the last names Tkachuk, Reinhart, Parise, Domi, Kapanen, Nylander, DeBrusk, Foligno, and Sutter. There were 14 players selected in the 2018 NHL draft whose fathers had played in the NHL; in the 2016 draft, there were seven such players picked in the first round alone.
I have my theories as to the reasons why there are so many cases of fathers and sons who play hockey at a high level, but we can get into those another time.
Not All Hockey Dads Play Hockey
My dad didn't play in the NHL. In fact, he never played hockey at all, and didn't even pay much attention to it until I started playing as a kid. My dad grew up in Brooklyn; when he was in high school, the Rangers would reserve a small number of discounted tickets to weekend matinee games for students. So, if he got in line early enough, with his New York City Public School System student ID card, he could get in for $1.00.
After that, though, my dad probably didn't go to another hockey game until my brother and I were little. We lived in Illinois at the time, and my parents took us to see the Blues play the Minnesota North Stars in St. Louis. That was a one-off, kind of like why we went to the state fair – it was there, it was just something to do.
So, when I started playing hockey, my dad wasn't able to show me extra things about skating or shooting, because he had no experience in those areas himself. And since he had never really followed hockey, he couldn't tell me about tactics or positioning. Even still, my dad helped me in more important ways.
Thanks For Giving Good Advice When I Needed It…
I started playing hockey later than most kids. In my first season, everyone else on my team had been playing for at least three years; I had a lot of catching up to do. My teammates and coaches were all understanding and supportive, and I never thought about quitting, but it was discouraging at times.
I barely touched the puck in games; I couldn't skate or stickhandle well enough to keep it away from opponents, and couldn't catch them to take it from them. I didn't score a single goal all season, and truthfully never even came close.
The next season, I was slightly improved thanks to a couple summer hockey camps, but just enough to not look as badly out of place as I had the previous season. The season was well underway, and I still hadn't scored a goal. All of my teammates had, many of them in double digits already.
One weeknight, my dad took me to a game about 45 minutes from our house. I was quiet in the car; I was feeling down, embarrassed about the fact that I was still the worst player on the ice in most games. As we pulled into a parking spot and my dad turned off the car, I asked without looking at him, "When do you think I'll score a goal?"
I don't remember my dad's exact words, but he basically said, "Don't worry about it, it'll happen eventually. You're working hard, and that's the most important thing. Just keep doing your best, and sooner or later you'll score a goal."
He was right – I scored in that game. I don't remember it that well, probably because I was so happy at the time. I know it wasn't a pretty goal – just a loose puck in a crowd in front of the net, and I was able to knock it in – but I didn't care.
Going home that night, as we pulled off the highway, my dad suggested we go out for ice cream to celebrate. I was kind of surprised, because it was a school night and it was already past my bedtime, but I wasn't objecting. We went to Howard Johnson's, which was the only place with ice cream that was open that late.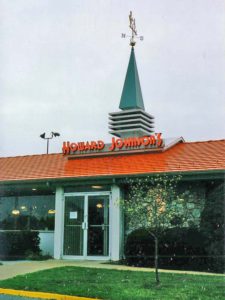 A few years later, when my older brother was in high school, there was a girl in his class that I had a huge crush on, and she worked at that Howard Johnson's. On more than one occasion, I went there and was mesmerized by her as I ate. Still, the late-night ice cream with my dad remains my fondest Howard Johnon's memory.
---
A quick sidebar here… I was stunned to learn that there is only one Howard Johnson's restaurant still in operation, and that one, which is in Lake George, New York, may not be around much longer.
---
Thanks For Giving Good Advice, Even When I Didn't Want It
For a little while in middle school, I went through a phase where I thought I would help my team by being an agitator on the ice. I guess I thought that if I could irritate my opponents, they would be distracted and focus more on getting back at me than on playing smart hockey. There were guys who played that way in the NHL, I reasoned, and it seemed to be effective.
And so, briefly, I would make sarcastic comments to opponents as we battled for pucks, give them a little jab on the back of the leg with my stick, encroach on their personal space after a whistle. I was like a PG version of a cross between Esa Tikkanen and Bobby Clarke, except I had all my teeth, and I had braces on them.
I thought this new dimension to my game was subtle, but my dad noticed it. Just like when I was worried about if I would ever score a goal, he had some good advice. Once again, he shared it while we were in the car, this time driving home after a game.
He asked me something along the lines of "Why are you doing all that extra business, talking and nudging guys?" I gave some kind of defensive answer. In my head, I was making angry, preteen rationalizations. You don't understand, you never played the game. They started it – if I don't do anything, I'll keep getting crap all game. Both true – OK, the second was only sometimes true – but that wasn't the point.
My dad didn't argue with me, he just shrugged and said, "Just seems like you could do without it." It took a few weeks for me to internalize what he meant, but he was saying, "Don't try to be something you're not. Play the style that's right for you." He was right.
Thanks For Being Selfless
When I was in 8th grade, we went skiing in Quebec over my February vacation. It was just me and my dad; my brother's school had a different vacation schedule, so he and my mom didn't go.
Just a short walk from where we were staying in the village, there was an outdoor rink – man-made, no boards or anything, just snowbanks all around. Knowing that there would be a rink, I had brought my skates and sticks.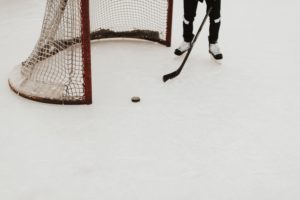 I went down to the rink a couple nights before dinner after skiing all day. The sun had already gone down, and it was ridiculously cold – February in Quebec is no joke – but my dad stood at the edge of the ice waiting patiently while I enjoyed having an outdoor rink all to myself, something that I don't think I've ever experienced again since then.
My dad would also put up with heat to let me work at hockey. After coming back from a summer hockey camp where I had learned how much I needed to get better at taking faceoffs, I enlisted my dad to stand in the driveway and drop pucks so I could improve my reaction time. Just like at the outdoor rink, he was willing to stay out as long as I wanted.
Little Things Mean A Lot
Obviously, having a dad who played hockey at a high level can be a great thing for a young hockey player, because the dad can teach them things about the game that other dads might not know.
Still, there are lessons a kid can learn in hockey that will benefit them on the ice even more than tips on skating or shooting technique, and they'll help them in life in general, too. Fortunately, dads don't need a hockey background to teach those lessons.
My dad didn't know a lot about hockey when I started playing, but he still taught me the most important things that I needed to be a good hockey player. Work hard. Don't give up. Have confidence. Know yourself. Be true to who you are. Be unselfish. Support others.
Some pretty good things to learn, and not just for hockey…
Thanks Dad. Happy Father's Day.
---
I hope you enjoyed this post. I'd love to hear from you. Please share your thoughts and memories of what you learned from your dad, hockey-related or not, in the comments section below.