We can all agree that everybody likes to receive a nice gift on a special occasion, right? Probably just as true is that nobody wants to give a gift that is going to get regifted, or tossed aside. With that in mind, I decided to put together some recommendations for some cool hockey gifts for Father's Day.
Father's Day is just a little more than two weeks away, which is kind of crazy. And, depending on how the Stanley Cup final turns out, the weekend of Father's Day could be the first weekend without hockey since before the season started.
If there's a dad in your life that goes through withdrawal symptoms without hockey, don't worry – the NHL draft is the weekend after Father's Day, so they won't have to suffer for too long.
Still, we all want to do something nice for dads on Father's Day, so whether that's giving a gift, taking care of some chores so dad can relax, or just spending time together, let's all remember to show our appreciation on June 16.
Something He Can Wear
No, not a tie – don't even think about it. How about something that he'll really want to wear? There are tons of options for hockey-related additions to his wardrobe that will make Dad smile.
Since Father's Day is only a few days before the official start of summer, a hockey t-shirt is always a good choice. And, since apparently some dads might, on rare occasions, mention how hockey (or music, or Saturday Night Live, etc.) was better "back in the day," a retro t-shirt will hit the spot.
I'm digging this jersey-style Cam Neely t-shirt.
It's got timely relevance, since by the time Father's Day is here the Bruins will have just finished playing in the Stanley Cup final. But since it's a throwback to the '80s and '90s, it gives Dad street cred so people won't think he just hopped on the Bruins bandwagon this spring.
There are lots of other players available too, and if dad's favorite player isn't one of the standard ones, you can customize this jersey-style t-shirt with any name and number you want printed on the back (for any NHL team).
I mentioned in another post that Ken Linseman was one of my favorite players as a kid, so that customization option would come in handy (I'm dropping a hint in case my kids read this;).
For the Rink
Maybe Dad plays in a late-night beer league, the lunch-hour pickup game, or likes to hit the weekend sticks and pucks sessions with the kids. Maybe he's thinking about signing up for a clinic to brush up on his skills before he's comfortable exposing his game to public view. Or maybe he isn't planning to be on the ice, but he will be in the stands.
Whatever the situation, you know he'll want to look good. If he doesn't already have a jersey to show support for his favorite team/player, this is a great time to get him one. Sometimes dads won't buy something for themselves even though they really want it, so Father's Day is a good opportunity to take that concern out of the equation.
One place that is a great source for authentic NHL jerseys exactly like the players wear on the ice – including the jersey tie-down strap – is Cool Hockey. They happen to have a big discount going on right now for all teams eliminated from the playoffs, so everyone except the Blues and Bruins. That's a great deal, but I'm guessing it will end when the Stanley Cup final ends, if not sooner.
Another place for jerseys is Fanatics. They have more variety of styles there, so in addition to the authentic jerseys, you can get replicas, including the Breakaway style that is slightly more fitted if Dad isn't going to be wearing it with pads underneath.
For the Office

OK, maybe you think Dad's home office could use a little more personality. In that case, something like this autographed picture of Brent Burns skating out of the shark's mouth in San Jose seems like a good choice. There's a similar photo of Logan Couture too.
I think the picture itself is cool and would add flair to an office regardless of which team Dad roots for, but another option would be to get Dad an autographed picture of one of his favorite players from when he was a kid.
For the Man Cave
You know how young kids want so badly for everyone to like the same things that they like, that they'll convince themselves that other people do like those things?
That's why when kids give presents, a lot of times they give gifts related to something that they're into, even if the person getting the gift isn't into that thing.
Adults do this too, although it's a little less extreme. We give gifts relating to a shared interest, even though the interest may be a lot stronger for the gift giver than the recipient. This explains why I have some Neil Young albums that I've never listened to much. I like some of Neil Young's music, but someone (who I won't name here) thought I should like more of it. 🙂
I've done it too, I'll admit it. We probably all have at one time or another.
I know you're probably wondering where I'm going with this, so here's the point. Sometimes the gift is more exciting for the giver than the recipient. It's better when the gift is more exciting for the recipient than the giver. But better than both of those scenarios is when not only the recipient is excited about the gift, but so is everybody around them.
If you're looking for a Father's Day gift that falls into that last category, then a bubble hockey game fits the bill. These games seem like they have gravitational pull on both kids and adults; they always have a crowd around them. And it's pretty easy to understand why – they're fun!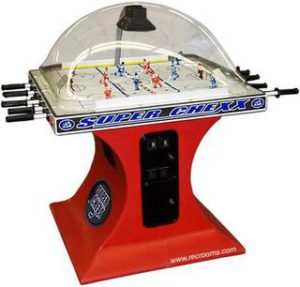 Granted, a bubble hockey game takes up some space in the house, and it's significantly pricier than a typical Father's Day gift, so it may not be right for all situations. But if it is an option, Dad – along with his family and friends – will be thrilled to get this for Father's Day.
Choices, Choices…
I've tried to include potential Father's Day gifts for hockey-loving dads for a variety of price ranges, tastes, and uses. If you tend to have a hard time picking Father's Day gifts, I hope this post gave you some ideas. Of course, the whole idea of giving a gift is to make someone happy. That might mean mowing the lawn so Dad can relax, or it might mean a tangible object. Whatever gifts you give on Father's Day, I hope they are enjoyed and appreciated.
I'm curious to hear from you. Do you know what you're going to give someone for Father's Day? If you're a dad, what Father's Day gifts have you enjoyed in the past? And is there anything you're hoping for this Father's Day? Please let me know in the comments section below.
---
Note: This post contains affiliate links.  If you click on an affiliate link and subsequently make a purchase from the linked website, I may receive a commission.  The reviews and recommendations on this website are based on my own personal experience and research, and are not influenced by my affiliate status.  I will always give my honest opinions to help you make informed decisions.