Well, the wait is almost over – we're just one day away from the start of the Stanley Cup Final! Game one is on Monday, and it looks like the Blues and Bruins will be a great matchup.
There are a lot of interesting story lines with these two franchises meeting in the final. There are always story lines, I guess, but the ones for this series are particularly compelling, especially when you consider that the two teams haven't ever really had the ingredients for a strong rivalry.
They're not close geographically, they've never been in the same division or conference, and they haven't played each other a bunch of times in the playoffs over a short period of time. Yes, there were a couple of playoff meetings, but I'll get to that in a minute. 😉
David Backes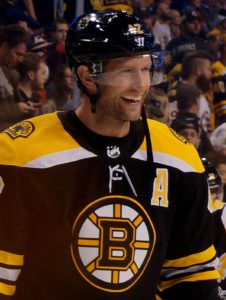 It's not often that a player who was a long-time captain of a team ends up going against that team in the Stanley Cup final. So, when it does happen, as it will this year, it's pretty notable.
David Backes is that guy. He played 10 seasons in St. Louis, and was captain for the last five of them, before signing as a free agent with the Bruins in 2016. There wasn't really any drama in his departure. It was just a salary cap thing, but still, it probably will feel weird for both Backes and his former teammates to go against each other with so much at stake.
Backes' game has slipped since becoming a Bruin, to the point where he's been a healthy scratch at times this past regular season and in the playoffs. But ever since getting back into the lineup partway through the second round after sitting out for a couple games, he has provided a spark; the Bruins have won their last seven games since he came back.
Nobody wants to be a healthy scratch, and it has to be tough for a veteran who has been a captain of an NHL team, and is an alternate captain now. Backes has handled it like a total pro, though. He's a heart and soul kind of player, and it's hard not to root for a guy like that.
The Goaltending Duel
The two starting goalies in this series, Jordan Binnington of the Blues and Tuukka Rask of the Bruins, have to be the leading candidates at this point for the Conn Smythe Trophy as MVP of the playoffs.
If San Jose had gotten past St. Louis in the Western Conference final, I would have had Logan Couture of the Sharks as my other front-runner besides Rask going into the final, but that didn't happen.
In any event, both of these goalies have been playing really well throughout the playoffs. Rask's numbers are a little better, but Binnington looked almost unbeatable in the last three games of the semifinals against San Jose.
I'm curious to see if the long layoff before the final affects either goalie. The Blues wrapped up their series with the Sharks on Tuesday, so game 1 of the final will be their first game in six days. That's pretty long, but the Bruins will have had an 11-day break.
Both goalies were so sharp that I wonder if having all that time off might actually be a bad thing for them. Most goalies, when they're playing well, want to keep playing every couple days so they don't get distracted.
At this point, I doubt either of them is going to crash and burn, but I'm going to give Rask the advantage here. He's played in the final before, and given that playing in Boston in general probably is a more pressurized situation, I think he's more used to the intense scrutiny that the final will bring.
That's nothing against Binnington, and again, I don't see him suddenly falling apart in the final, but he's less of a known commodity than Rask. And who knows, maybe this guy will be even better in the final and lead the Blues to victory. Even if he does, I'm not going to be calling him the next Ken Dryden or anything. Maybe the next Cam Ward?
Haven't We Met?
Yes, the Blues and Bruins have played in the playoffs twice before, in 1970 in the final and 1972 in the semifinals. The Bruins swept both times; they ended up winning the Cup both years, beating the Rangers in the 1972 final.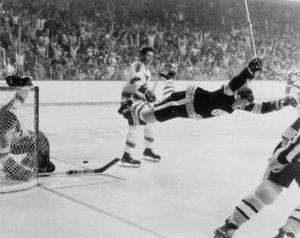 Of course, the 1970 series is the one that people remember. More specifically, they remember the famous Cup-clinching goal that Bobby Orr scored in overtime of game four. The one in the picture, maybe the most famous hockey picture ever taken. So the Blues players from that team – especially Glenn Hall, the Blues goalie – are probably rooting extra hard for this Blues team to be part of a different kind of history.
Act Like You've Been There Before, Please…
So, as you already know if you've watched a Blues home game that they won during these playoffs, they have a victory song – a song they play in the arena to celebrate the win. Nothing wrong with that – the Bruins have a victory song too, as do many, if not all, of the other teams in the NHL.
No, the problem isn't with the fact that the Blues have a victory song. The problem lies in what that song is. You see, the Blues victory song is – wait for it… wait for it…
"Gloria" by Laura Branigan.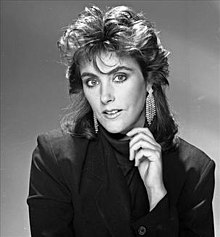 Which begs the obvious question: WTF, St. Louis?
I mean, sure, I get that it's kind of catchy. But it's a little nuts how much this song has taken hold of the collective consciousness in St. Louis. A radio station played it for 24 hours straight after the Blues won their series against Dallas, and did the same thing again when they eliminated San Jose. If the Blues win the Stanley Cup, "Gloria" may be on repeat until training camp starts next fall.
In case you don't know how this ongoing travesty got started in the first place, apparently some Blues players went to a bar in Philadelphia to watch the Eagles-Bears NFC Wild Card game in January. When the game went to commercials, the bar's DJ played music, and "Gloria" got people singing and dancing and having fun.
The Blues players took note of this, and decided to play the song in the dressing room after wins. Then word spread through the organization and it started being played at the Enterprise Center after home wins, and, well, here we are.
There are so many things wrong with this entire picture, I'm not sure where to begin, but I guess the beginning is as good a place as any.
Philly Fan – The fact that a bar full of Philadelphia Eagles fans were asking the DJ to keep playing "Gloria" is mind blowing. I thought Philly fans were supposed to be mean and nasty, booing Santa Claus and stuff. The thought of them singing and dancing to Laura Branigan makes about as much sense to me as if you told me that a bar full of Oakland Raiders fans was doing karaoke versions of "Call Me Maybe."
The Copycat Factor – Putting aside the actual song, it's a little dubious that the Blues chose their new victory song based on fans in a different city, and in the context of a different sport. Remember when Terrell Davis used to do a salute every time he scored a touchdown for the Denver Broncos, and then Jaromir Jagr started saluting after scoring a goal? Yeah, it's kind of like that.
It's "Gloria" – OK, now I'm not putting aside the actual song. Again, I understand that it's catchy, upbeat, yada yada yada… But what, the Blues and their fans can't have fun and celebrate with "Jump Around" or "Dynamite" or any of a million other songs?
Gloria was a hit in 1982; that year alone produced plenty of other songs that would be less torturous to listen to every time the Blues win. Even if for some weird reason the Blues want to stay in the leg warmers and Jordache jeans time frame, they could have gone with "Africa" or "Hungry Like the Wolf" and spared the rest of us the pain.
---
I'm sick of hearing "Gloria," I don't mind saying it. I want a good, competitive Stanley Cup final. But I don't want to have to listen to that song again, so I'm rooting for the Bruins to win, at least (especially?) in the games in St. Louis.
And if you find meaning in stuff like this, you might be interested to know that "Gloria" peaked on the Billboard chart at #2. As in, second place. Interesting…
How Does It End?
Not many people would have picked the Blues to win the Stanley Cup at the beginning of the season. Even fewer would have picked them to win at the beginning of January, when they were in last place overall. Making the final is a huge accomplishment, and at this point they're playing with house money.
The Blues have never won a Stanley Cup. They've gone longer than any other current NHL team without winning a Cup. And yet, they have historically been a pretty good franchise – never truly great or terrible. They haven't been as frustratingly bad or come as agonizingly close as some teams before finally breaking a championship drought (I'm looking at you, Cubs and Red Sox).
I think the Bruins are going to win. Why? I think they can match St. Louis' grinding game, and I think their top-end offensive weapons are more dangerous.
But I also think it's the way it's meant to be for the Blues, and I mean that in a good way. I think they need to build up more of a history of coming close but not winning the Cup for it to feel right when they do win it.
And aside from that, I'm just hoping that by the time they do eventually win the Cup, they find a different song to play.
---
What about you? Which team do you want to win the Stanley Cup, and which team do you think will win? Please leave comments below!
---
Note: This post contains affiliate links.  If you click on an affiliate link and subsequently make a purchase from the linked website, I may receive a commission.  The reviews and recommendations on this website are based on my own personal experience and research, and are not influenced by my affiliate status.  I will always give my honest opinions to help you make informed decisions.