OK, if you read my last post about the best hockey nicknames for forward lines, you already knew that I was going to write at least one more post on the subject. There are just too many great hockey line names to fit them all in one post. So, today I'm just going to continue with the same theme.
The Punch Line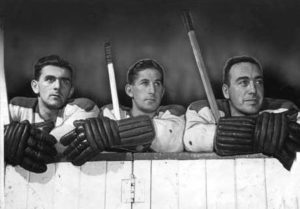 For five years in the 1940s, the Montreal Canadiens had one of the best and most iconic lines in NHL history. The Punch Line consisted of Toe Blake at left wing, Elmer Lach at center, and Maurice "Rocket" Richard at right wing. The name perfectly sums up what the line provided – scoring punch (and maybe another kind of punch, courtesy of Richard's notorious temper).
The line was formed in the 1943-1944 season, and played together until Blake retired after the 1947-1948 season. During that five-year stretch, the Canadiens won two Stanley Cups, and the members of the line won two Hart Trophies as the league's MVP, two Art Ross Trophies as the leading scorer, seven First Team All-Star selections, and four Second Team All-Star selections.
Obviously, they were a dominant force together, but just like with Detroit's Production Line, the individuals all were great players on their own. Blake (at right in picture above) had already won the Art Ross and Hart Trophies before Lach (center in picture above) or Richard (left in picture above) had entered the league. He also became one of the greatest coaches in NHL history after his playing career was finished, winning eight Stanley Cups in 13 seasons as the Canadiens' head coach.
Lach was the epitome of old-time hockey. He was a strong skater and passer, excellent on faceoffs, and had an incredible ability to play through pain. At some point in the 1940s, Lach's health insurance company was paying out so much to him in claims that they offered him $17,000 – a lot of money back then – to retire from hockey, but he declined. When he did retire, in 1954, Lach held the NHL records for most career assists and points.
Both during his playing career and in retirement, Richard was the marquee player for the Canadiens, and a cultural icon throughout Canada, especially in his native province of Quebec. In 1955, when Richard was suspended for the end of the regular season and the playoffs over a stick-swinging incident, it set off a riot in Montreal that became a reference point in the sometimes-tense relationship between English and French Canada over the next several decades.
What made Richard such an important figure, though, was his play on the ice. In his 18-year career, he was named a First Team All-Star eight times, and a Second-Team All-Star six times. He led the league in goals five times, played on eight Stanley Cup-winning teams, and at the time of his retirement in 1960, he was the league's career leader in goals and points.
The Legion Of Doom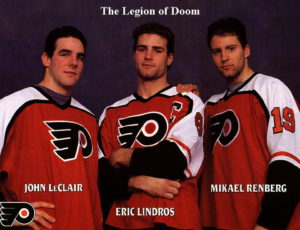 The Legion of Doom – John LeClair at left wing, Eric Lindros at center, and Mikael Renberg at right wing – only played together for three seasons, but during that time, they were an impressive and intimidating force. They averaged 6'3″ and 233 lbs, but they were all highly skilled too. They were able to score lots of different ways. They could enter the offensive zone with the puck and make a pretty passing play, or bowl players over on the forecheck and crash the net. Whatever felt right at the time, basically.
The line's first season together was 1994-1995, which was shortened by a lockout. Over their three seasons together, they averaged 1.21 points per game each, higher than any of them averaged over their career as a whole. In that three-year span, they also piled up two First Team All-Star selections, three Second Team selections, a Hart Trophy, a Lester Pearson Award as the league MVP as voted on by the players, and a trip to the Stanley Cup finals (where they lost to Detroit).
The Legion of Doom was broken up in the summer of 1997, when Renberg was traded to Tampa Bay. He was a solid player for the rest of his career, which also included several seasons in his native Sweden.
LeClair continued to put up good numbers after the Legion of Doom's reign ended, sometimes playing with Lindros, sometimes not. He ended his NHL career with over 400 goals, and played for Team USA twice in the Olympics and in the 1996 World Cup of Hockey. In the latter, he scored six goals and 10 points in seven games, helping the U.S. to win the tournament. He was inducted into the U.S. Hockey Hall of Fame in 2009.
Lindros' career was hampered by injuries, of course. They caused him to miss some significant time, and reduced his effectiveness in the latter part of his career. Still, even though his cumulative numbers may not have lived up to the astronomical expectations that people had when he was a teenager, he was a unique player who was a dominant presence when he was healthy. Even though his prime was too short, the impact he made more than merits his induction into the Hall of Fame in 2016.
The Mafia Line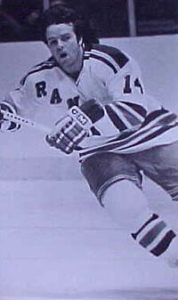 This line wasn't together for as long as most of the lines I've included in this and the other post, but I decided that it made the cut because a) the name is very clever, and b) during the time that the line did play together, it was very effective.
The Mafia Line was made up of a "Godfather" and two "Dons." Phil Esposito was the Godfather at center, with Don Maloney at left wing and Don Murdoch at right wing. When the line was put together late in the 1978-1979 season, they clicked instantly, leading the Rangers to a strong finish in the regular season, then playing a major role in the team's unexpected run to the Stanley Cup finals, where they lost to Montreal.
The interesting thing about the line is that all three players were at very different places in their careers. Esposito (above, center) was 37 years old, nearing the end of an amazing career and hungry for one more shot at winning a Cup after doing it twice with Boston in the early 1970s.
Don Maloney (above, left) was a 20-year-old rookie who had just been called up from the minors in the second half of the season. He was a grinder who would dig pucks out of the corners and feed his linemates, who had better finishing skills. Maloney ended up leading the league in assists during the playoffs with 13, and set a rookie record, which has since been broken, for playoff points, with 20.
Murdoch (above, right) was only 22, but he had already experienced a roller coaster career. As a rookie two seasons earlier, he made a huge splash, scoring five goals in his fourth NHL game. He had 15 goals after 15 games, and even though a broken ankle eventually cut his first season short, he still ended it with 32 goals and was an instant sensation. Unfortunately, he didn't handle his new celebrity status well, and quickly developed a problem with alcohol and drugs.
Murdoch was suspended for the first half of the 1978-1979 season after being arrested for drug possession. His career would fizzle out prematurely within a few years, but at least for the second half of that season and the playoffs, he was able to play at a very high level again.
An interesting side note about The Mafia Line is that all three players had brothers who also played in the NHL. Phil Esposito's younger brother Tony was a Blackhawks goalie; both are in the Hall of Fame. Don Murdoch's older brother Bob, a forward, played four seasons in the league. And Don Maloney's older brother Dave, a defenseman, played almost his entire career with the Rangers, and was the team's captain when they made their run to the Stanley Cup final in 1978-1979.
The Brothers Line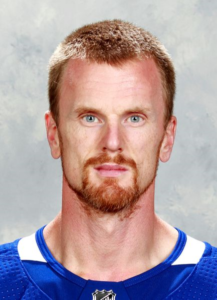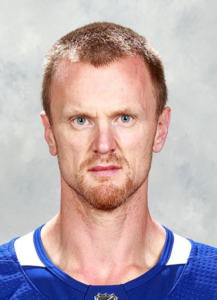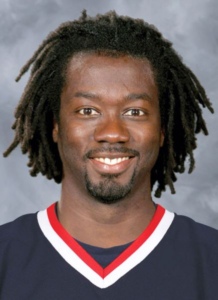 Normally a line's nickname comes from either fans or the media, but in this case, one of the players was the source. Right wing Anson Carter, who is black, said that he was the third "brother" on the line with identical twins Henrik Sedin (center) and Daniel Sedin (left wing). People enjoyed Carter's humorous take, and the name stuck.
The Sedin twins had always played on the same line since they were kids, but in their first few years in the NHL it was hard to find a player who could fit in with and complement their unique chemistry. When Carter signed with Vancouver as a free agent before the 2005-2006 season, he instantly gelled with the twins.
Both Sedins saw their point totals increase significantly from their previous NHL career highs – Daniel (above, left) by 17 points, Henrik (above, center) by 23 points. Some of that, of course, was just part of their natural maturation as players, but the way they and Carter meshed together on the ice had something to do with it too.
For his part, Carter (above, right) had one of his best seasons, scoring a career-high 33 goals, along with 22 assists. Coincidentally, those happened to be Daniel and Henrik's uniform numbers.
Unfortunately, The Brothers Line was just a one-season thing. Carter's contract expired, and despite his strong season, the Canucks weren't offering the salary or term he was looking for, so he signed with Columbus. For whatever reason, that move didn't pan out, and the next season would be Carter's last in the NHL. Still, whether it was for the name, their entertaining play, or both, The Brothers Line was a fan favorite.
Until Next Time
Well, that wraps up the second part of my list of the best hockey line nicknames. As always, I want to hear from you! What do you think of these nicknames? Which line nicknames do you think belong on this list that weren't here? And, do you have any nickname ideas for current or past lines that don't have one already? Please feel free to leave comments and any questions below.