After reading my last post, about the 2019 NHL Draft, a friend asked me which high pick from this year's draft I thought might turn out to be a bust. That question got me thinking about the NHL's biggest draft busts in general over the years, and that, in turn, left me feeling a little conflicted.
Why? Well, I guess because the term "draft bust" sometimes seems unfair given that the draft is so speculative. That's true in all sports, but especially with the NHL, where players are 18, sometimes 17, when they are drafted. There's a lot more room for error when players are drafted that young.
Beyond that, a lot of the reasons that players are perceived as busts relate to things that they can't control, starting with the simple fact that sometimes they shouldn't have been picked as early in the draft as they were. Some players would be considered a decent or even good player if they were picked in the second round instead of the first, or 17th overall instead of first overall.
My point is that often, fans or teams think a player is a bust because where a player is drafted – even if the team that drafted them had them rated too highly — colors expectations.
One other thing about labeling someone a draft bust is that sometimes, while their playing career might not turn out the way people would have expected on draft day, they end up having an interesting story and finding success in their own way. I thought it would be fun to write about some of the NHL's biggest draft busts and look at why their careers didn't pan out exactly as planned, as well as where their paths have led them.
Today's post is just about a couple of these players, but I'll cover more players in a later post.
Oh, and I didn't really have an answer for my friend who asked which high pick from this year's draft might turn out to be a bust. I don't think NHL teams always make the best decisions at the draft, but they do have entire staffs who scout players for a living, so I figure I should at least give them the benefit of the doubt until I see tangible reasons to do otherwise.
First, Let Me "Bust" Out A Few Guidelines
Since there have been lots of players whose careers didn't live up to expectations, it would be impossible to include them all here. So, I'm going to limit myself to players that were picked first overall in their draft.
Also, even though the NHL draft started in 1963, it was very different before 1970. That's because until 1970, NHL teams owned junior teams, and players that played for those junior teams essentially had their playing rights owned by the parent NHL team. So until 1970, the draft only included players that hadn't signed an agreement that tied them to an NHL organization.
Of course, most of the best young players had done that, so the draft wasn't the gateway that it is today. For that reason, I'm not going to look at players drafted before 1970 in this post.
Now that we have that out of the way, let's get down to business! Here are my thoughts on some of the (so-called) biggest NHL draft busts.
---
Brian Lawton
Brian Lawton is one of the most interesting people on any draft bust list. He was a ground breaker in a lot of ways. Back in 1983, he was the first U.S.-born player ever taken first overall in the NHL draft, straight out of Mount St. Charles Academy in Rhode Island.
Lawton made some minor waves at the start of his rookie season with the Minnesota North Stars when he wore number 98. Nowadays, high numbers like that are common, but back then, some people thought he was trying to put himself in the same light as Wayne Gretzky. Gretzky himself had raised some eyebrows by wearing 99, but he had been wearing it since junior hockey, and by 1983 he was the biggest star in the NHL, so Lawton was seen (by some) as a cocky poser for wearing a number similar to Gretzky's.
This goes to show how closed-minded people can be – seriously, it's just a uniform number. Lawton had a perfectly reasonable explanation for choosing 98. He had always worn 9 or 8, but neither of those was available with the North Stars, so he just combined the two. Seems pretty harmless, right? Later in his career, Lawton switched when one of his preferred numbers was available.
On the ice, Lawton's career was unimpressive, certainly not what you would hope for with a first overall pick. Over the course of 10 seasons, he played for six NHL teams and five minor league teams; his NHL totals were 483 games and 266 points. He retired from playing in 1993, shortly before his 28th birthday.
Lawton has continued working in hockey, with much more success than he had as a player. He became a player agent, opening his own firm immediately after hanging up his skates. He eventually sold his firm to Octagon and stayed on to run the company's hockey representation practice, building it into one of the largest agencies for hockey players. He was named to The Hockey News' list of the 100 most powerful people in hockey multiple times.
Lawton was the General Manager for the Lightning from 2008 to 2010. Nowadays, he works as an analyst for the NHL Network.
I've always had a good impression of Brian Lawton. When I was a kid, I went to a hockey camp where he was one of the coaches, and he seemed like a really nice guy, very down to earth and cheerful. I felt badly that his playing career didn't go according to plan, but when you look at everything he's done in hockey both on and off the ice, it's pretty impressive.
---
Greg Joly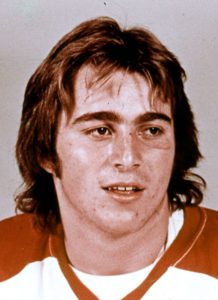 Greg Joly holds the unique distinction of being the only player picked first overall in both the NHL draft and the WHA draft, both in 1974. He was also the first player ever drafted by the Washington Capitals, as they were a new expansion team for the 1974-1975 season.
Looking back, it's pretty clear that being pushed into a prominent role right away with an absolutely terrible expansion team was bad for Joly's development. The Capitals won 19 of 160 games in their first two seasons; that will damage any player's confidence. For an offensive defenseman like Joly, confidence was a requirement to play the puck-rushing style that made him effective.
Let's face it, the Caps were a disaster for the first several years of their existence. In their first season, they had the worst winning percentage in NHL history (.131, based on a record of 8-67-5), a record that still stands today. Joly had no support and was expected to be the cornerstone of the franchise as a 20-year-old rookie.
At the same time, the coaching staff mishandled Joly, telling him to focus on defense and not carry the puck up ice, but then sometimes moving him from his defense position to forward. Joly had bad luck with injuries as well; knee surgery forced him to miss half of his first season, and he broke his ankle in his second season.
The Caps traded Joly to Detroit early in his third season, but the Red Wings (Dead Things) of the late 1970s and early 1980s weren't much better, and Joly continued to be plagued by injuries. Between the injuries and the awful teams in Washington and Detroit, Joly's career was a perfect example of circumstances seeming to conspire against a player.
Joly ended up with 97 points in 365 NHL games. He's part of a footnote in hockey history for scoring the last goal at Detroit's Olympia Stadium in 1979 before the Red Wings moved to Joe Louis Arena. He actually played more career games in the minor leagues than in the NHL, and was much more successful there. With the Adirondack Red Wings, Detroit's farm team, he won two Calder Cups as AHL champions, and was also named an all star twice.
By the way, Joly grew up in a town with a very cool name – Rocky Mountain House, Alberta, which also happens to be the hometown of another former NHL defenseman, Brad Stuart. After retiring from hockey in 1986, Joly stayed in Glens Falls, New York, where the Adirondack Red Wings were located, and went into the insurance business.
Moving On
I understand why Brian Lawton and Greg Joly are considered draft busts; they were picked first overall and had fairly pedestrian careers. At the same time, if their development had been handled better by their teams at the beginning of their careers, they might have had very different trajectories.
Both players did the best they could in their respective circumstances. Unfortunately, things didn't pan out the way people expect them to with first overall picks, but their draft position alone shouldn't define them. Look at their careers without thinking about where they were drafted, and they were decent NHL players.
In doing research for this post, I found a lot to like about both Lawton and Joly. While I'm sure they would have liked their playing careers to have gone differently, it seemed like they were able to move on from the weight of unfulfilled expectations and enjoy hockey and life with a good perspective.
Your Thoughts?
I hope you enjoyed this post about a couple of the NHL's biggest draft busts. Remember, I'll be doing another post on this topic covering more players at some point.
Who are some players you consider to be draft busts (whether they were picked first overall or not)? What do you think tends to be the biggest reason for a "bust" – injuries, the team rushing or mismanaging the player's development, bad scouting (i.e., the team shouldn't have picked the player that early), or something else?
Please leave your comments and questions below, I'm curious to hear what you think!