Better late than never, right? 😉 It's been a couple weeks since the big event, but I'm happy to say that my NHL Draft Review for 2019 is here. In case you're wondering why I waited until now, it's because originally I was thinking that I would do a single post combining my draft review and my analysis of free agent signings, so I was waiting until after the free agency market opened on July 1.
But I realized that covering both in one post would make for an excessively long and unwieldy post, so I decided to split them into separate posts so I could give each topic the attention it deserved. And with the way the free agency market has played out so far, there are still a lot of notable players that haven't signed yet, so I want to see how some of those story lines evolve so I can write a more comprehensive post about the subject.
In any case, I'm really happy to be giving you my draft review today – enjoy!
The Obvious Choices
OK, there wasn't a whole lot of mystery about what was going to happen with the first two picks in the draft, and sure enough, things went as expected: the Devils took Jack Hughes with the first overall pick, and the Rangers selected Kaapo Kakko with the second.
I know there was some talk that Kakko's strong performance with Finland in the World Championships this spring had at least made it a closer call as to who would go first overall, but I never thought he had leapfrogged over Hughes, just that he had narrowed the gap. That's impressive in itself, but in the end I don't think the Devils ever debated who they wanted to pick.
More than most first and second overall picks, these two players will be compared to each other throughout their NHL careers. That's because they're going to teams that are not only in the same division, but are close to each other geographically and have a strong rivalry. If Hughes and Kakko become the kind of marquee players that everyone expects, Devils-Rangers games will generate a lot of buzz in years to come.
So, what makes these two players so special? Here's a quick summary.
Jack Hughes
Hughes is an amazing skater; he has great speed and shiftiness. He also has terrific hands, so combined with his skating ability, he excels at creating offensive opportunities in traffic.
What makes Hughes special, though, is the intangibles. Some 18-year-olds with his talent might show some signs of laziness at times, but Hughes is always working to get better. He's competitive by nature, and wants to be a difference maker every time he's on the ice. And his hockey sense is top notch.
Put all these qualities together, and it's no surprise that Hughes broke program scoring records while playing with the U.S. National Team Development Program. Just as a reminder, that program also was home to players like Auston Matthews and Patrick Kane when they were teenagers.
Speaking of which, Patrick Kane is the player that Hughes has been compared to in terms of playing style. Sometimes those comparisons between draft-eligible players and established pros are kind of a stretch, but in this case, I definitely see the similarities. So does Kane, who has been very complimentary of Hughes, even saying that he thinks Hughes does some things better than he does.
The only negative that anyone can put on Hughes is his size; he's only 5'10" and 170 lbs. He might get a little taller, and will almost certainly add some weight and strength as he gets older, but I think the biggest he'll be, at most, is the average size of an NHL forward; and I think that's a stretch.
I don't see size being a major issue for Hughes, though – after all, Kane is basically the same size, right? Hughes has elite skating, puck skills, hockey sense, and competitiveness. Very few players, even among first overall picks, are elite in all four of those areas and have elite size. Just my opinion, but if I had the choice of taking a player who was elite in four of the five categories, but below average in one, I'd choose below average in size every time.
Kaapo Kakko
In contrast to Hughes, Kakko has an NHL-ready body. He's 6'2″ and 194 lbs, and likely will continue to add strength over the next few years. He is a very good skater, though not quite at the level that Hughes is, and has an excellent shot.
Kakko uses his size to his advantage; he's very strong on his skates and is hard to knock off the puck. Like Hughes, he also has great drive and competitiveness. Of all the players in the draft, he might not be the best at any one thing, but he is very good at everything.
Kakko is a complete player who plays a mature game – the kind of player that can be a foundational guy for a franchise. That fits perfectly with the Rangers, as they're rebuilding. I expect him to be one of the key pieces for them for a long time.
Surprise, Surprise
Every draft has surprises, in terms of players being picked much earlier than expected, or much later. This year was no different. Let's take a look at a player in each category.
The Early Bird
Moritz Seider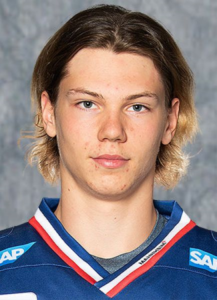 I'll admit it, I didn't know anything about Moritz Seider before Detroit took him with the sixth overall pick. That said, I'll give Red Wings GM Steve Yzerman the benefit of the doubt here since he jumped at Moritz so early; he must know something the rest of us don't. Moritz does have good size at 6'3″ and 208 lbs, and skates well too. He hasn't put up big numbers, but who knows? This could be a project with a big upside.
Late Arrival
Cole Caufield
In the "new" NHL, the stricter enforcement of rules against hooking, holding, interference, etc. has opened the game up and put skating and skill at a premium. One of the side effects of that – supposedly, anyway – is that it's easier for small, skilled players to work their magic.
I guess that's true, but a lot of times it seems like those kinds of players still have to overcome an inordinate amount of size bias just to get the opportunity. Cole Caufield is a perfect example. He slipped all the way to the 15th pick, where Montreal wisely grabbed him, when he should have gone in the top 10, maybe even top 5-6.
The only reason he was still available at 15 was his size. Granted, he is small (5'7″ and 163 lbs), but this kid holds the single-season and career goal scoring records for the USNTDP; he scored 72 goals this past season! I can't believe he was passed over 14 times in the draft.
The Can't-Miss Kid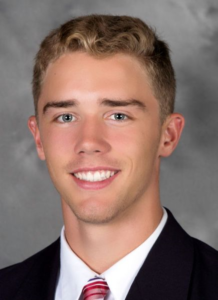 The Panthers were smart to take Spencer Knight with the 13th pick, which, by the way, is the earliest that a goaltender has been selected since 2010. He's like a lab-designed prototype of the modern goalie: big (6'4″), extremely athletic, calm, tracks the puck well – lots to like about this pick. Knight is heading to Boston College in the fall, but don't be surprised if he only stays one or two years before turning pro.
The Sleeper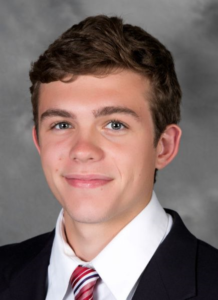 One pick that I think could turn out a lot better than people expect is John Beecher, who the Bruins picked 30th overall. Beecher didn't put up big offensive numbers with the USNTDP, but that's largely because he was the third line center, playing behind Jack Hughes and Alex Turcotte, who was selected fifth overall by the Kings.
Playing behind those two elite talents meant less ice time for Beecher, especially on the power play, so maybe that's why some people have said that he's not a highly skilled player. He's not as good with the puck as those teammates, sure, but he has blazing speed and a big, strong frame (6'3″ and 212 lbs), and works really hard.
With those attributes, I think Beecher is going to be a very effective two-way center in the NHL someday. He's going to the University of Michigan this fall, where I expect that he'll have a bigger role than he did last year. That should only accelerate his development.
Winner, Winner, Chicken Dinner
So, which team did the best overall with their draft picks? I think it was the Kings, who made good use of their stockpiled picks, starting by taking Alex Turcotte and Tobias Bjornfot in the first round, and then Arthur Kaliyev early in round two.
Kaliyev slipped because of some concerns about work ethic, but given that the Kings had nine total picks, I like their willingness to take a risk on Kaliyev. If he matures and is more consistent in his effort level, he has a huge upside; many scouts thought he was the second-best goal scorer in the draft after Caufield.
Honorable mention goes to the Rangers and Flyers. Both teams came away from the draft with a forward and a defenseman who I think can be impact players in the NHL. For the Flyers, they are Cam York (D) and Bobby Brink (F), both from the USNTDP; for the Rangers, they are Kakko (F) and Matthew Robertson (D).
---
What did you think about this year's draft? Did any picks make you scratch your head in confusion? How do you feel about your favorite team's haul at the draft? Which players are you most excited to see play in the NHL, and which do you think will shine the brightest?
Please leave your comments and questions below, I'd love to hear from you!