As most hockey players know, there are three different product lines of Bauer hockey equipment. For those who might not be familiar, these three lines are Supreme, Vapor, and Nexus. Each has its own range of products for virtually every piece of protective gear (except for helmets), as well as skates and sticks.
While all three lines provide options for players from beginners all the way up to professionals, there are differences in design that make each better suited to certain types of players based on playing style, body type, and personal comfort preferences. That's why you can find loyal devotees of each product line at any level, from youth hockey to beer leagues to the NHL.
Today, I want to walk through the characteristics of the three product lines so you have a solid understanding of the differences when you're shopping for gear. One thing to keep in mind is that for any given player, it's possible that they might like and feel most comfortable mixing and matching products from more than one of the product lines. More on that later, but for now, let's look at each product line individually.
Bauer Supreme
The Supreme line is the oldest of the three. It has been around for decades; my first skates when I was a kid were Supremes.
Supreme skates and protective equipment have an anatomical, or contoured fit. What does that mean? Well, in a nutshell, it means that the gear fits with the same degree of closeness to the player's body in all areas. In other words, a piece of Supreme gear won't fit tighter in one area and have a more relaxed fit elsewhere, it will be consistent throughout.
To use skates as the first example, Supremes are a medium fit in the toe box as well as the heel and ankle. They also are medium-volume and medium-width skates compared to the skates in the other two product lines.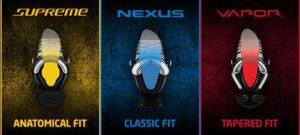 When it comes to gloves, the models in the Supreme line have an anatomical/contoured fit, just like the skates. This means that they fit snugly not just in the fingers, but all the way through the hand and cuffs. As a result, they feel like part of your hand.
With pants, as well as shoulder, shin, and elbow pads, the Supremes once again are contoured to fit close to the player's body. In the pants, that translates into a narrow fit in the waist and all the way down the legs to the knees. In the other pads, it means players will be agile and comfortable on the ice without any unnecessary bulk.
What about the sticks from the Supreme line? First and foremost, they are designed with power in mind. They have a high kick point, so they're best suited for players that like (and have time) to wind up for a big slapshot or bring the puck back to get everything behind a wrist shot.
Bauer Vapor
The Vapor line made its debut in 1997 with skates, while protective equipment and sticks were added in the following decade. Both the skates and protective equipment have a tapered fit, meaning that they will fit more snugly in some areas and more loosely in others. This is a clear contrast to the anatomical/contoured fit of the Supreme line.
In the skates, the tapered fit manifests itself in a standard fit in the toe box, but a much narrower, snug fit in the heel and ankle. Vapors are the lowest-volume skates of Bauer's three lines.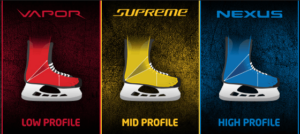 Similar to the skates, Vapor gloves have a tapered fit, where they are snug in the fingers and hands, but then are looser around the cuffs. This allows a player to have a good feel for the stick without feeling like the gloves limit their range of motion in their wrists.
Moving to protective equipment, Vapor follows the same theme as with skates and gloves, meaning a tapered fit. For the pants, that means a snug fit in the waist and hips, but a looser fit around the knees. With the shoulder pads, Vapors are narrower around the torso and have more padding in the shoulders for protection. The elbow pads are similar, tapering from more padding in the biceps to a standard fit on the forearms. And with shin pads, the fit is wider around the knees to allow for more padding, with a closer fit in the shins.
Looking at Vapor sticks, they are designed for quickness. Their low kick point makes them popular with players that need to get a shot off in a hurry, especially snap shots or one-timers from in close.
Bauer Nexus
Bauer rolled out the Nexus line of skates, protective equipment, and sticks in 2012. The skates and protective gear have a classic fit, meaning a little more relaxed or looser fit than their counterparts from the Supreme and Vapor lines.
Starting again with skates, Nexus models are wide from the toe box through the heel. They also have a high-volume boot compared to Supreme or Vapor skates.
As for Nexus gloves, they are loose from the fingers through to the hand and cuff, and also have a shorter cuff. This all allows for more range of motion throughout compared to gloves from the other lines.
The protective pieces from the Nexus line stick with the classic fit, of course. The pants are wider in the waist and hips, and through the legs. The shoulder, elbow, and shin pads are roomy throughout, making them a little bulkier than Supreme or Vapor pads due to the extra padding.
Finally, Nexus sticks are designed to offer "best of both worlds" capabilities.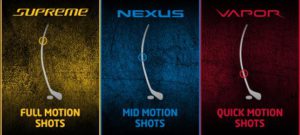 They have a mid kick point that provides power with an effortless release and maximizes accuracy on all types of shots.
Mix and Match
Many players use gear from multiple brands: Bauer, CCM, Warrior, True, etc. That's totally understandable. And even among players who are loyal to Bauer, there's a good chance that they'll use products from more than one of the three lines.
That also makes total sense when you consider all the different combinations of body type, playing style, and personal comfort preferences. Just to give a few examples, Patrick Kane uses Vapor skates and sticks, but Nexus gloves; David Pastrnak uses Nexus sticks, but Supreme gloves; and Steven Stamkos uses Supreme sticks and pants, but Vapor skates.
So even if you want to go with all Bauer gear, don't feel like you need to stick with just one of the three lines. Chances are that by picking and choosing from at least two and possibly all three lines, you're more likely to find the gear that's most comfortable for you and helps you play your best.
The Bottom Line
Bauer is one of the biggest hockey brands in the world, and one reason it has been able to maintain and even strengthen its position in the market is because it has three distinct product lines that are clearly differentiated from each other and address the needs and preferences of virtually every type of player.
I hope that this post has helped you understand the differences between Bauer's product lines so you have a sense which one might have the best options for you depending on what type of equipment you need.
I'd love to hear your thoughts about Supreme, Vapor, and Nexus equipment. Have you used gear from any of the three product lines in the past, and if so, what pieces of gear did you use? What did you like or dislike? If you have any questions about this post, or about Bauer's three product lines in general, please let me know and I'll do my best to answer them. Please leave your comments and questions below – thanks!