So, you're a hockey player. Or you have a kid who's a hockey player. Or maybe you were just brainstorming costume ideas for next Halloween and you decided to go as an NHL equipment manager. Whatever the reason, you're looking for a hockey equipment bag.
Well, as you may know, there are a lot of variables to think about when it comes to hockey bags. As I alluded to on the "About" page of this site, choosing a hockey bag used to be pretty simple. If I remember correctly, when I was a kid and got my first bag, I had two brands to choose from, both offering essentially the same bag, and a total of three colors between them. I went with the blue Cooper bag, in case you're wondering.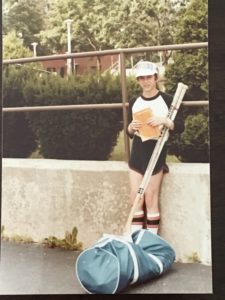 Obviously, things have changed (including my wardrobe, thankfully). There are more brands, offering a range of different bag types (duffel, wheeled, backpack, and combination), sizes, materials, and storage compartments. Let's take a look at what you'll want to consider as you decide which hockey bag is right for you.
The "Who" Helps Determine the "What"
Maybe the most important factor in choosing a bag is knowing who the bag is for, and that doesn't just mean whose gear is going to be carried around in the bag, it also means who will actually be carrying the bag.
In other words, if you're looking for a hockey bag for your child, think about whether they're big and strong enough to carry their own bag with all their equipment on their shoulder, or back. That probably will depend on how old they are; for older kids, carrying a bag generally won't be an issue, but I've seen younger kids tip over trying to carry a bag that weighs as much as they do.
If you're looking for a bag for a younger kid who is going to be responsible for carrying the bag themselves, a bag with wheels (either wheeled only or a combination) might be your best bet
On the other hand, if they won't have to carry it themselves until they're a bit older and stronger, then there's no reason not to look at duffel and backpack-style bags too.
Where Did I Put That Again?
Like with bag type, the number and kinds of compartments or pockets you'll want in a bag depends a lot on the situations where the bag will be used. If you play in a late-night rec league and tend to just throw everything in your bag after a game so you can get home quickly, you probably don't need lots of pockets.
If your child is going to be using the bag and getting in and out of their gear by themselves, though, more compartments could be very useful. Having a specific place where they know to look for (and put back) everything will help reduce the "I can't find my other elbow pad!" moments of panic. And for younger kids, the fact that they can start to organize their gear themselves might be enjoyable and give them a sense of accomplishment.
Regardless of the bag type or situation, I think it's good to have at least one extra pocket besides the main compartment. There will inevitably come a time when you'll want to keep something separate from the rest of your gear, whether it's your money and keys, a mouth guard, snacks, or something else.
Tough and Durable – Like A Hockey Player
When it comes to materials, most bags these days are made of nylon, but the grade varies. A thicker grade of nylon will be stronger and more resistant to tearing or being cut by errant skate blades, door jambs, etc.
A bag that is water-resistant or waterproof, at least on the bottom of the bag, is an absolute necessity. It's inevitable that hockey bags will sit on wet locker room floors at some point. You definitely don't want the snow from someone else's skate blades to soak through the bottom of your bag and get all your equipment wet.
Lots of bags have mesh sections instead of solid nylon in some areas of the bag exterior. This is especially common on the separate skate pockets that many bags have. The mesh allows for air flow so things can dry, at least more than they would otherwise. If you take your gear out of your bag to air it out at home after playing, then not having that kind of breathability in your bag might not be a concern for you, though.
Does Size Matter?
If you're looking for a bag for your child, I generally would recommend getting a bag that will be big enough to fit their equipment as they grow. That will save you money in the long run, because a good hockey bag, as long as it isn't put through abnormal abuse, can last for several years. Kids will outgrow their skates, shin pads, etc., but they don't have to outgrow their hockey bag.
They Don't Make Them Like They Used To…
And that's a good thing! Gone are the days when a hockey bag was no different from a regular duffel bag other than having the brand name of an equipment manufacturer slapped across the side.
The hockey equipment bags available today are more durable, have better features and materials, and are more user-friendly than the bags of a few decades ago. The advances that we've seen in the design and quality of skates, sticks, and the like have been equally applied to hockey bags too, and that makes life better for hockey players.
I hope that this has helped you in your search for a hockey equipment bag. As you have seen, there is a plethora of factors to consider when picking a bag. Ultimately, though, if you understand the basics of who will be using the bag and the situations and ways in which they'll be using it, you've positioned yourself to make a choice that you'll be happy with for a long time.