If you're a female hockey player, or the parent of a female player, you're likely well aware that finding hockey gear that fits girls and women well can be a challenge.  For a lot of female players, that challenge is greatest when it comes to pants.  So, I decided to look at some women's hockey pants that could be a good fit, both literally and figuratively.
First, let's look at why unisex pants frequently don't fit women properly.  In a nutshell, it's because "unisex" hockey pants are designed for the male body, and there are obvious differences in male and female bodies.
It's not just that men are typically taller and bigger than women.  If that were the case, then girls and women would be able to find a good fit simply by wearing smaller sizes of pants designed for boys and men.  Younger girls do this, and the pants fit them as well as boys.
The differences that cause unisex pants to not fit older girls and women properly relate to proportion, not simply size.  Women typically have longer legs in proportion to their overall height than men, as well as a bigger difference between their waist and hip measurements.
What this means is that with unisex hockey pants, adolescent girls and women have to choose between either
having pants that fit properly in the hips, but are too loose in the waist and too short in the legs; or,
having pants that are long enough in the legs, but too loose in the hips and waist.
Fortunately for female players, the landscape has started to change over the past several years as manufacturers are recognizing the demographic trends in hockey.  The numbers of female players are increasing at a much higher rate than males, so the equipment makers are gradually coming up with more offerings for this growing segment of the market.
Now that we've covered some background, let's talk about some models of hockey pants that are made specifically for women.
---
Bauer Vapor X800 Lite Women's Pants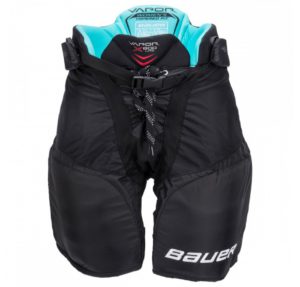 These pants are basically an updated version of the Vapor X800 women's pants, which I'll write about below.  The X800 Lite pants are made with 400D nylon, which is pretty standard (the higher the number, the tougher the grade of nylon).  The protection is good; the padding was upgraded from the earlier X800 model, so it's a little thicker and wider without adding weight.
The pants have inner thigh zippers, stretch fabric through the center from front to back for mobility, and a hydrophobic liner that's supposed to resist odors.  I can't speak to that, but it is a cool turquoise color, so I give Bauer props for not thinking that women's equipment always has to be pink.
Okay, now for the big question – will they fit an adolescent girl or woman better than unisex pants?  My answer on this is yes, but with a caveat.  Even after taking advantage of the 1-inch extension (which is a nice feature), these pants are still going to be too short on girls or women who are tall and thin.
Bauer's size chart is pretty accurate as a reference, and you should assume that the extra inch of length from the extension is built into the taller ends of the height ranges for each size.
I saw this for myself recently when I went hockey pants shopping with my 13-year-old daughter.  For reference, she is 5'7″ and weighs somewhere around 105-107 lbs.  Yes, I feed her!  She's just in one of those awkward growth spurts.
Anyway, she tried on some X800 Lites in a size medium.  They fit well in the hips and waist, but were a couple inches too short even after gaining an inch from the extension; a large was just long enough, but too loose in the hips and waist.
---
Bauer Vapor X800 Women's Pants
As I mentioned above, the Vapor X800 is the earlier version of what is now the Vapor X800 Lite.  The main difference is that the padding is a little better in the X800 Lite.  The only other difference is in the liner; in the X800 it's red, in the X800 Lite it's turquoise.  And while the X800 liner doesn't have the anti-odor technology, I'm not sure how much difference that makes.
The most important thing to know is that the cut is the same for both pants, so fit will be identical.  And the other features, such as the 1-inch extension, thigh zippers, stretch fabric through the middle, and 400D nylon, are consistent between the two versions as well.
Between the X800 and X800 Lite, again, the only difference that relates to on-ice performance is the slightly upgraded padding in the X800 Lite.  That difference may matter to some players, but the X800 is still a good pair of women's hockey pants.  And, since it's no longer the "latest" model from Bauer, retailers have reduced prices for the X800.
---
CCM WS1 Women's Pants
These pants are a solid choice for their overall quality.  They have similar features to both Vapor models: thigh zippers, stretch fabric through the middle from front to back, and a 1-inch extension.  The only difference in these features is that on the CCM pants, the length is extended by unzipping a zipper around the waist, while on the Bauer pants it's done by unhooking loops on the suspender hooks (these are hidden underneath the waistband pad).
Unfortunately for tall and thin players, the WS1 isn't cut much differently than the Vapor models.  The WS1 is a touch longer in the legs, but not much.  For most players though, these pants will fit very well.  There really isn't much difference between the CCM WS1 and the Bauer Vapor X800 Lite, it's just a matter of personal preference.
---
Bauer Nexus N9000 Women's Pants
For players who are average or a little heavy in build for their height, the Nexus N9000 pants may be a very good option. They're well-made, with 840D nylon, and have the thigh zippers, stretch fabric, and 1-inch extension found on both Vapor models.
Why do I say these might be better suited for players with an average or slightly heavy build for their height?  I'm glad you asked…
Equipment from Bauer's Nexus line tends to have a more "traditional" (i.e., relaxed) fit than the Vapor line, so while the N9000 women's pants are tapered, expect that they'll be slightly bigger in the waist than either of the Vapor models.  Leg length on the N9000 will be the same, so if you're tall and thin, you'll have the same problems with fit as with the Vapor pants above, except the N9000 will be even looser in the waist.
Side note: If you want to know more about the differences between Bauer's three lines of equipment (Vapor, Supreme, and Nexus), you can check out another post I wrote on that subject here.
---
Tackla W880 Women's Pants
These pants are designed to be durable and fit well, with 420D nylon and a two-belt closure system that ensures a better fit around the hips and waist.  The padding is good – slightly less protective than Tackla's unisex pants, but still more than adequate.
Tackla pants tend to run a little wider than normal, so they are a good option for stockier players, but the two-belt system makes them a good option for anyone.  One thing to be aware of is that they use a European sizing system, so it can be a little tricky to find the right size.  Any inconvenience in figuring out sizing is worth it though, as these are great pants.
---
Stark NC7 MFG Women's Pants
Stark is a newer player in the hockey equipment world, but they have the right idea when it comes to women's pants.  Specifically, they're offering both regular and tall versions in each size (small, medium, and large).  This makes these pants a good option for players of all heights and body types.
But they're a good option for more reasons than just the range of size options.  The NC7 MFG pants have a two-belt closure system, but unlike other pants, one is an internal Velcro belt that allows the player maximum control over the fit.  The pants offer excellent padding, as well as stretch fabric from front to back in the middle, and a moisture-wicking liner (in magenta).
---
Let's Wrap It Up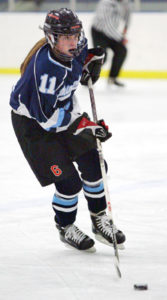 For most adolescent girls and women, hockey pants designed for the different proportions of the female body are going to fit better than unisex pants.  For female players, that translates on the ice in the form of:
better protection because the padding is sitting where it is supposed to sit; and,
improved performance, because when pants are comfortable, they aren't a distraction for players.
Of the women's hockey pants we looked at here, some are better suited for certain female body types than others, but all of them are good-quality pants that will provide a great experience for female players compared to unisex pants.
I hope you've enjoyed reading.  If you have any comments or questions about anything in this post, please leave them below.