With Halloween upon us, people are showing off their creativity with all sorts of costumes, from cute to funny to scary. Since many costumes include masks, I thought it would only be fitting at this time of year to do a post about some of the best goalie masks in hockey history.
Goalie masks have come a long way from the primitive ones worn decades ago. The early masks were simply thin fiberglass shells that sat flush on the face. They offered protection against cuts from flying pucks and errant sticks, but they didn't have the angled design of modern masks to dissipate the force of an impact, so many goalies still suffered broken bones after being hit in the mask with a hard shot in those early days.
Mask aesthetics have also changed significantly over the years. For roughly a decade after goalie masks appeared permanently in the NHL, nobody in the league had any design elements or color of any kind on their mask; they all wore solid white or off-white masks. Today, masks are adorned with sophisticated artwork that comes out of detailed planning conversations between goalies and artists.
I think there's something to be said for both. Uniforms and equipment usually don't allow much room for deviation, in hockey or any other sport. I love that goalies can use their masks as a way to express their personalities.
So now, let's talk about what I think are some of the best goalie masks in history. In the spirit of Halloween, several of these masks are scary, creepy, or intimidating, but not all of them fit into that category. The main requirement is that they are memorable, and that certainly describes all of these masks. Enjoy!
Jacques Plante
As I was writing this, I realized that we're coming up on the 60th anniversary of when Jacques Plante became the first NHL goalie to wear a mask (on an ongoing basis – more on that later). Yes, on November 1, 1959, in a game against the Rangers at Madison Square Garden, the Canadiens' Plante was hit in the face by a hard backhand shot by Andy Bathgate; he went to the dressing room with a broken nose and needing seven stitches to close a cut.
In those days, NHL teams didn't carry a backup goaltender. The home team was responsible for having a "house goalie" on hand at games. If a goalie from either team was injured and couldn't continue playing, the house goalie would run down from the stands, put on their equipment, and go into the game.
Plante, who had been using a mask in practice, told coach Toe Blake after getting repairs that he was ready to go back in the
game, but only if he could wear his mask. As the story goes, Blake looked at the beer-leaguer who was getting dressed to take the ice, considered that the game was still early in the first period, and agreed to let Plante wear the mask. And the rest is history.
The mask itself is really basic and looks like something Hannibal Lecter would wear for a road trip, but you have to start somewhere, right? Plante was one of the greatest goalies of all time, winning six Stanley Cups (including five in a row from 1956 to 1960), a Hart Trophy, and seven Vezina Trophies. He also was a pioneer in other ways: he was the first goalie to go behind his net to stop the puck and set it up for his defensemen when the opponent dumped the puck in; he was also the first to raise his arm to let his teammates know that icing would be called. But despite all of that, Plante's biggest impact on hockey came from his introduction of the goalie mask.
---
Gary Bromley
Gary Bromley was 5'10" and weighed 149 lbs, thin enough that he was nicknamed "Bones" by his teammates. That nickname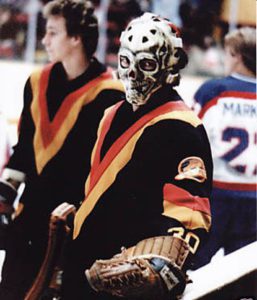 was the inspiration behind his mask pictured here. Interestingly, he didn't use the skull mask until his next-to-last season as a pro.
Bromley spent more than half of his professional career, which spanned from 1971 to 1982, in the WHA or the minor leagues. He had a couple good seasons, but his overall stats aren't that impressive. Still, he had one of the most iconic goalie masks ever, and one that's especially worth recognizing around Halloween.
Andrew Hammond
If your last name starts with "Ham" and your job is to rob your opponent of goals, then you don't need to ask your friends for suggestions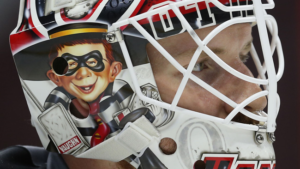 or have a big brainstorming process. You know what you're going to put on your goalie mask.
Yes – the Hamburglar. How could it be anything else? Somehow the nickname becomes even more fun when you see the character on the mask.
Andrew Hammond burst onto the scene in the last couple months of the 2014-2015 season, when he won 20 of his first 23 career starts with Ottawa. That run came out of nowhere and was pretty crazy – it even inspired fans to throw burgers onto the ice, as shown in the video below.
Unfortunately, Hammond has had injury issues and hasn't been able to recapture the magic of that season since then, playing mostly in the minors the last few years. He's only 31, so hopefully he can stay healthy and write a new chapter in the Hamburglar story.
---
Ed Staniowski
The mask that Ed Staniowski wore with the St. Louis Blues stands out because it uses the eye holes as the center of the musical notes, and because the symmetry of the mirror image effect is really cool.
Oh, but then there's that one little detail that's only on one side of the mask, and it's a little creepy. What was Staniowski trying to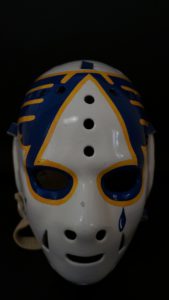 say with that teardrop? Did he kill someone in prison? Was he a Juggalo in the late 1970s, before Juggalos were even a thing?
The curiosity (and fear, maybe?) is enough to keep you up at night, but fortunately, the meaning behind the teardrop is actually very benign. It's a nod to the blues – as in the music genre that inspired the team's name – as an art form that stirs up powerful emotions.
Staniowski had an unspectacular pro career from 1975 to 1985, though he was a standout in junior hockey, winning a Memorial Cup and the Canadian Major Junior player of the year award. After retiring from hockey, Staniowski joined the Canadian military and served for 29 years.
---
Clint Benedict
Remember how I said that Jacques Plante was the first NHL goalie to wear a mask on an ongoing basis? Well, that's because there was a guy before him that wore one, but only for a short time.
That guy was Clint Benedict. Back in 1930, Benedict was knocked out cold and had his nose and cheekbone broken by a shot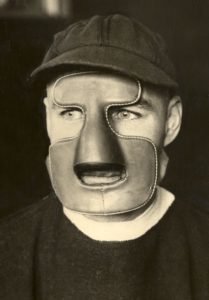 from the Canadiens' Howie Morenz. The injuries affected his vision, causing him to miss more than a month. When he came back, he wore the leather mask pictured here. He only used the mask for five games, though, because the nose piece was too bulky and made it difficult to see. Later that season, Benedict was hit in the throat with a shot (ironically, again by Morenz) and never played in the NHL again, though he did play one more season in the minors.
Like Plante, Benedict was a great goalie; he won four Stanley Cups, and led the league in shutouts seven times, and both wins and goals against average five times. Also like Plante, his mask wasn't his only innovation. He was the first goalie to drop to the ice to stop shots, basically forcing the league to change the rules (previously, goalies were required to stay on their feet). Definitely ahead of his time, but the same can't be said for his mask.
---
Gilles Gratton
Gilles Gratton is one of the quirkiest guys to ever play in the NHL. He streaked at one of his team's practices, and once told a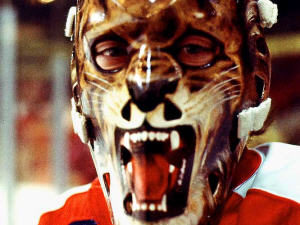 coach that he wasn't able to play because in a previous life he had sustained a leg injury as a soldier in the Franco-Prussian War, and the injury was acting up.
So, it's not a huge surprise that Gratton (aka "Grattoony the Loony") would have a mask with a lion's face painted on it. Gratton's zodiac sign is Leo, so that was his inspiration. Apparently he really got into character while wearing the mask and would hiss and snarl at opposing players that skated near his goal.
Like several of the other goalies featured here, Gratton's playing career wasn't particularly memorable for his on-ice performance. His mask, though, ensured that he had a lasting legacy.
---
Gerry Cheevers
Gerry Cheevers had one of the most recognizable masks of all time. There are a couple notable things about the mask, besides the artwork itself. First, it was the first mask in the NHL that had any design or color at all. As I mentioned earlier, for the first decade or so
after Jacques Plante debuted his mask, every goalie's mask was plain white or off-white. Second, the look of Cheevers' mask evolved over time, as it was constantly modified.
Here's the story. Sometime in the late 1960s, Cheevers took a shot to the mask in practice and left the ice for the dressing room. Harry Sinden, the Bruins coach, went to see if the goalie was OK. Cheevers was fine, he just didn't like practices and was happy to have an excuse to play hooky. Sinden told him to get back on the ice, but before Cheevers went, the trainer drew stitch marks on his mask where the puck had hit him.
After that, whenever Cheevers got hit in the mask with a puck, the trainer would add however many stitches he thought would have been required if Cheevers hadn't been wearing a mask. Over the rest of his career, the once-white mask gradually became darker with more and more stitch marks.
Cheevers won two Stanley Cups with the Bruins and is in the Hall of Fame, but – cue the broken record – his mask has made him an even bigger icon.
---
Empty Net
That's all I've got! But, like with the first nickname post I wrote, I have a feeling that I may have to revisit this topic sometime in the future. There have just been too many awesome goalie masks over the years. But, I had to stop somewhere, and I like this group – definitely fitting for Halloween.
I want to hear from you! Which of these masks do you like (or not like), and why? What other masks would you put on a list of the best ever? Please put your comments (and any questions) below. Thanks for reading, and Happy Hockey Halloween!