It's been a busy summer so far around the NHL. Whether through free agency or trades, lots of players will be putting on new uniforms when the upcoming season starts. In this post, I want to look at some of the more interesting trades in the NHL this summer.
Have no fear, I'll be writing about all the free agency moves this summer too, but I'm going to do a separate post about those. Partly because there are some free agency storylines that haven't played out yet (including a major one out of Toronto), and partly because even with just the trade activity, there's more than enough ground to cover in one post.
I don't know if this is just my imagination, but it seems like there are more trades in the off-season nowadays than 20 or 30 years ago. If my hunch is true, there's a good explanation, and that's the salary cap. The cap forces teams to trade players that, in many cases, they wouldn't want to trade otherwise.
A perfect example of this is the New York Rangers. As of right now, they're over the cap limit for this coming season, so they're going to have to shed some salary; Chris Kreider is likely to be dealt, even though he's an important player for the Rangers.
In any event, here are my thoughts on some of the trades that have taken place this summer.
Jacob Trouba to the Rangers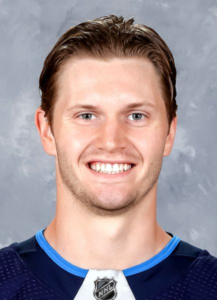 Just before the draft in June, Winnipeg sent Jacob Trouba (above) to New York in exchange for Neal Pionk and a first-round pick. Incidentally, the pick, which was 20th overall, had originally been the Jets' pick. They had traded it to the Rangers in the deal for Kevin Hayes at the trade deadline, so kind of funny that they ended up getting the pick back in this trade.
Trouba was a restricted free agent, and he had already asked the Jets to trade him. The trade request didn't have anything to do with hockey. Trouba's fiancée is in medical school and is applying to residency programs in the US (both she and Trouba are American), so this was more about Trouba wanting to find a situation that worked for him not just for his career, but his life off the ice.
This deal does help the Rangers. Even though he's only 25 and just hitting his prime, Trouba is an established veteran who can play in all situations and probably will be on the Rangers' top defense pairing.
At the same time, Pionk has more upside than a lot of people realize. He's a couple years younger than Trouba, and has less than two full seasons of NHL experience. He was put in situations that he shouldn't have been with the Rangers, simply because they didn't have enough depth on defense, and he still managed to look decent. With the Jets, he won't be thrown into the fire so much, and that should help him develop.
Overall, I think this trade is a rare one that could turn out to be a win for both teams. Of course, I wouldn't say that if Trouba had been willing to stay in Winnipeg for the long term, because then the Jets wouldn't have had any reason to trade him. Still, given the circumstances, I think both teams made out well on this one.
P.K. Subban to the Devils
On draft weekend, Nashville traded P.K. Subban (above) to New Jersey for Steven Santini, Jeremy Davies, and second-round picks in this year's and next year's drafts.
This trade is notable for a couple reasons. First, this is a classic case of a team (Nashville) making a trade because of salary cap concerns. This is stating the obvious, but Subban is far and away the best player in this trade, and that's meant with no disrespect toward Santini or Davies. And the two second-round picks are nice, but it's unlikely that either of them will yield a player like Subban (though it's worth mentioning that Subban himself was a second-round pick back in 2007).
The other reason this trade is kind of a big deal is because of how it fits into the bigger picture of what the Devils have done this off-season. They may be the most improved team in the league based on their moves this summer: drafting Jack Hughes, the Subban trade, signing Wayne Simmonds as a free agent, and trading for and then signing Nikita Gusev. Plus a handful of smaller moves.
The secondary effect of making those moves to improve the team is that they should help convince Taylor Hall to sign a contract extension rather than leave when he becomes a free agent next summer. Hall has made it clear that he only wants to commit to a long-term deal if the team has a legitimate chance to contend for a Stanley Cup. All the Devils' off-season moves will go a long way towards convincing him that they do.
Avalanche-Leafs Deal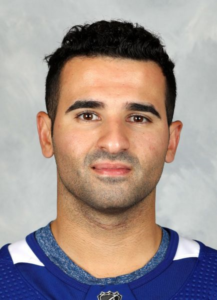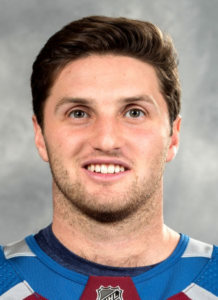 At the beginning of July, the Maple Leafs sent Nazem Kadri, Calle Rosen, and a third-round draft pick in 2020 to Colorado. In exchange, the Avalanche gave Toronto Tyson Barrie, Alex Kerfoot, and a sixth-round pick in 2020.
This one is very interesting, and there are people who feel strongly that one team won this trade on either side. Both teams had a surplus at a position, so the deal makes sense for both of them. There are also risks for both teams with the players they acquired, but this has the potential to work out well for both teams.
Colorado needed a second-line center, and Kadri (above, left) slots into that role well. He had been pushed down the depth chart to the third line in Toronto after the Leafs acquired John Tavares last summer, but the Avalanche will have a bigger role for him.
Likewise, Tyson Barrie (above, center) became expendable in Colorado because they have so many good young offensive defensemen: Sam Girard, Cale Makar, and the recently-drafted Bowen Byram. Toronto needed an upgrade on defense, and Barrie, who was seventh in scoring among league defensemen last season, definitely gives them that.
Kerfoot (above, right) is a solid third-line forward who is skilled enough to be used on the power play if Toronto needs to mix up their options. Personally, I think Kerfoot is an underrated part of this deal. He's young and still improving, so he could turn out to be a nice surprise for Toronto fans.
For Toronto, the potential risk in this deal is that while Barrie is a defenseman, the defensive aspect of his game sometimes is a shortcoming. They already have an abundance of offensive skill in their lineup. Looking at the two most important players in the trade, the Leafs gave up one who is as good defensively as offensively (Kadri) for one who isn't (Barrie).
For Colorado, the risk is Kadri's propensity for taking stupid, undisciplined penalties at the worst time (as I wrote about in my playoff review). He's been suspended five times in his career, including in the playoffs the last two years. He makes the Avalanche stronger at forward, but that's not worth much if he can't keep his emotions under control and he's out of the lineup as a result, especially in the playoffs.
Milan Lucic for James Neal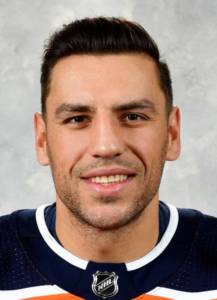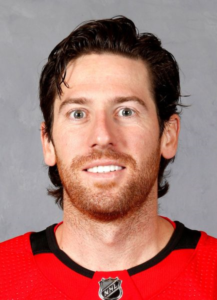 OK, so remember how I said that sometimes players are traded because of the cap? Well, these are two players that I thought wouldn't be traded because of the cap. Both players come with such cap-unfriendly contracts that I (and a lot of other people) thought that their teams wouldn't be able to find anyone to take them off their hands.
So, Edmonton and Calgary did the only thing possible, and I have to say it's pretty ingenious – they traded their disasters.
Let's look at what each team is getting in this trade.
Edmonton gets Neal (above, right), who has four years left on a contract he signed with Calgary last summer; the annual cap hit is $5.75M. In 11 NHL seasons, Neal had never scored less than 21 goals until last season, when he only had seven. He has good size (6'3″ and 212 lbs.), but he's not an especially physical player; he's not a fast skater, and isn't great defensively.
Going to Calgary is Lucic (above, left), who also has four years left on his contract, with a cap hit of $6M per year. He uses his size (6'3″ and 231 lbs.) to play a very physical style. While he has scored 20 or more goals in five of his 12 NHL seasons, including 2016-2017, his first in Edmonton, he is not a good skater, and his game has steadily declined since joining the Oilers.
Maybe the most interesting thing about this trade is that there's a draft pick involved, if certain conditions occur. Basically, the Oilers will give Calgary a third-round pick in 2020 if Neal scores at least 21 goals this coming season and he has at least 10 goals more than Lucic.
That gives Calgary some protection in case they end up losing the trade in terms of on-ice performance. Still, I think this trade is more likely to work out for Edmonton than Calgary, for a couple reasons.
First, Neal is more likely to have a bounce-back season than Lucic. He had one bad year, while Lucic has had two, which makes me think a return to his old form is iffy at best. That's partly because the speed of the game just keeps getting faster, to the point where Lucic's lack of speed has become a glaring weakness.
And, while both players are 31 and have four years left on their contracts, at a similar cap hit (Edmonton is actually retaining $750K/year of Lucic's salary), Lucic's contract includes a no-movement clause, and is structured in a way that makes buying out his contract very unlikely to happen. So, even if the trade doesn't work out for either team, at least the Oilers have a little more flexibility as far as being able to cut their losses.
Regardless, this trade stands out to me as one of the most intriguing of the summer – I'll definitely be watching to see how it pans out.
That's A Wrap – Sort Of
Obviously these trades aren't the only ones that have taken place so far this summer, but I thought it would be more fun to talk about a few of the more interesting ones than to just list every single deal that's been made. If you'd like to see a complete list of trades, you can check out this tracker. And there will be more trades over the rest of the off-season, of course.
Which of these trades do you think will have the biggest impact on one or both of the teams? Do you think any of the teams made a mistake with one of these trades? Do you agree or disagree with my take on these trades? And, are there any players that you expect (or hope) will get traded before the new season starts?
Please leave your comments or questions below, I'm curious to hear what you think!