As you may know, this month – November – is also known as "Movember," a month when men are encouraged to grow a mustache to raise money and awareness for men's health issues. Since mustaches are top of mind this month, I thought it would be fun to write a post that pays homage to the tradition of the hockey player mustache.
There are a lot of NHL players that take part in Movember, but this post is meant to be a tribute to the players that wear (or wore) a mustache all the time, not just as a temporary adornment. As you would expect, there were plenty of candidates for this post from the 1970s and 1980s, but there are a few gems from the modern era too. Spoiler alert: Auston Matthews has a long way to go.
I do want to give a little background on my criteria for this list. To be included, a player had to have a mustache for a significant stretch of time. Not necessarily his entire career, but like I said, I'm not counting mustaches that were only around for Movember, or just for the playoffs, etc. And while I did make allowances for mustaches that are joined by beard friends, this post is about mustaches, so I'm judging on what starts above the lip – meaning that if there is a beard in the picture, the mustache has to be the real star of the show on the face in question. If the mustache wouldn't make the list without the beard, then it didn't make the list, period. Lastly, this list isn't in any particular order, so please don't interpret where a guy is placed as some kind of ranking – it's just the order in which I wrote about them.
Now, without further delay, let's get down to business and look at some of the best hockey mustaches!
Derek Sanderson
Derek Sanderson, known as "Turk," was a talented player who became one of the biggest celebrities not just in hockey, but in all of sports. He started his NHL career off strong, winning the Calder Trophy as rookie of the year in 1967-1968 and playing a key role on two Stanley Cup-winning teams for the Bruins. Even though he didn't put up huge offensive numbers, he was incredibly popular in Boston for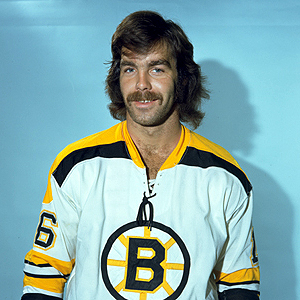 his grit and tenacity. He was one of the best in the league on faceoffs, and many players from his era say he was among the best penalty killers they ever saw.
For a while, Sanderson was on top of the world. He appeared on magazine covers and TV shows, and he co-owned a nightclub with Joe Namath. In 1972, after five seasons with Boston, he jumped to the rival WHA, signing a contract with the Philadelphia Blazers that was, briefly, the biggest contract in professional sports history.
Sanderson's mustache was great, but part of the reason it makes the list is also because of what it represents. The NHL was a pretty conservative world when Sanderson turned pro in 1967, and it didn't change as fast as the world at large over the next several years in terms of fashion, hair, and so on. Sanderson was marching to his own beat by rocking a mustache, so I give him props for that.
Unfortunately, Sanderson's lifestyle caused the downfall of his hockey career. He had problems with alcohol and eventually drugs that went from bad to worse, to the point that he was broke and out of hockey by age 31. He eventually cleaned up and worked as a Bruins broadcaster for several years before becoming a wealth manager for professional athletes. Oh, and he still has the mustache.
Erik Karlsson
Erik Karlsson is the only guy who makes an appearance in both the hockey mustaches post and my post from a few months ago about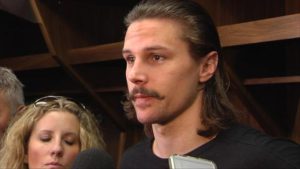 hockey hairstyles. What can I say? Karlsson is a follicular force.
Sure, he looks like he could get a role as one of the Three Musketeers, or maybe a Swedish Disney prince, but Karlsson's a world-class hockey player. Two-time Norris Trophy winner, four-time selection to the First All-Star team, yada yada yada… Never mind, it's all about the 'stache.
Dennis Maruk
Dennis Maruk is so underappreciated it's not even funny. He had back-to-back seasons with 50 and 60 goals for the Caps in the early 1980s, and set franchise records with 76 assists and 136 points in 1981-1982.  Over the course of his NHL career from 1975-1976 to 1988-1989, Maruk scored 878 points in 888 games – pretty impressive numbers.
Maruk first grew a "regular" mustache as a teenager, but says he was inspired to turn it into a Fu Manchu because of a baseball player.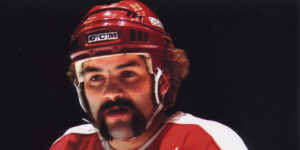 Maruk was a small player at 5'8″ and 165 lbs., and noticed that pitcher Al Hrabosky looked tough and intimidating.  Figuring that looking like a badass might help at least a little bit to convince opponents that he shouldn't be messed with, Maruk decided to go with the Fu Manchu, and gradually it became his calling card.
Here's another interesting factoid about Maruk.  He apparently would use a plane to shave down the top of the shaft on his stick.  Then, he would tape it in a unique way.  Where most players would tape a small knob on the butt end and then wrap a thin layer of tape down another 6-12″, Maruk would decrease the amount of tape more gradually from the butt end down the rest of that 6-12″, sort of like an ice cream cone shape.  It's definitely unusual, but it worked for him, obviously.
Larry Robinson
Robinson was called "Bird" by his teammates, who thought that his tall frame and curly hair made him look like Big Bird from Sesame Street.  He also happens to be one of the best defensemen that ever played – and he had a classic mustache.
Robinson's achievements are mind boggling.  He was selected three times each to both the First and Second All-Star teams, won two Norris Trophies as the league's best defenseman, one Conn Smythe Trophy as playoff MVP, and six Stanley Cups as a player (plus three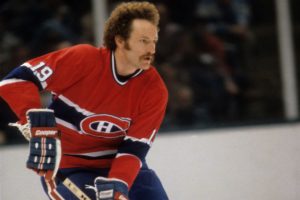 more as a coach).  In his 20-year playing career, he never missed the playoffs.  And he holds the record for the best career plus/minus rating, at +730.
Robinson controlled the game when he was on the ice, whether playing shutdown defense, carrying the puck up ice in transition, or keeping the peace with a glare and a point of his finger at opponents that got chippy with his teammates.  Robinson didn't like to fight, and he didn't have to very often.  That was largely because he established a reputation in a couple incidents against the Flyers when they were terrorizing the league in the mid-1970s.  First, he stood up to Philadelphia's Dave "The Hammer" Schultz and dusted him in a fight.  Then in the 1976 Stanley Cup finals, he checked Gary Dornhoefer so hard that the game had to be stopped so the boards could be repaired with a hammer and crowbar.
Did Robinson's mustache add to the intimidation factor?  In my head right now, I'm picturing Big Bird from Sesame Street, and it's a lot more unnerving to think about that feathered friend with a mustache than without one, so I'll say yes.
Eddie Shack
Eddie "The Entertainer" Shack enjoyed a 17-year career with several different NHL teams, but he's best remembered for the seven seasons he spent with the Maple Leafs in the 1960s.  He was a fan favorite for his style of play, hence the nickname.  He buzzed around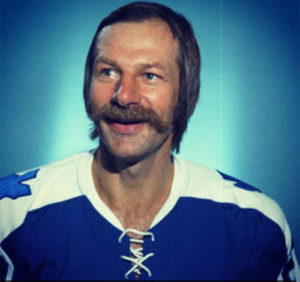 the ice in search of action, or a way to create action – a big hit, a scoring chance, a fight.  Despite being a third liner with Toronto, Shack was so popular that he had a song written about him called "Clear the Track, Here Comes Shack."
Shack moved around after helping the Leafs win their fourth Stanley Cup in five years in 1967; with several waves of expansion, he was a desired commodity for new teams.  He holds the distinction of being one of only two players to score 20 goals in a season with five different teams.
Shack grew his mustache later in his career, so it would be understandable if you think maybe he was preparing for a second career after hockey in the, uh, film industry.  In truth, though, it was nothing like that.  The man simply was and remains an original and a free spirit, and his awesome lip caterpillar embodies that perfectly.
Joel Quenneville
Ok, so there's something I want to acknowledge – Joel Quenneville is on this list because of his coaching career.  Yes, he was a player, and he had a mustache when he played too, but let's be honest, his mustache has a lot more status because of what he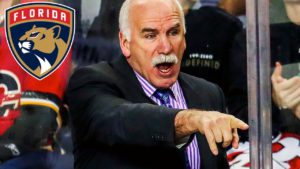 has accomplished as a coach.  I mean, his mustache has its own Twitter account.
So I was a little torn about whether I should include Quenneville since this post is about hockey player mustaches.  His was just as impressive when he was a player as it is now, but the fact is that I might not have remembered him if he hadn't stayed in my consciousness because of his coaching career.  But whatever, I'm including him.
Quenneville was a serviceable defenseman for a little over 12 NHL seasons, but unfortunately was stuck on terrible teams for most of his career.  To add insult to injury, he was traded to the Hartford Whalers in the summer of 1983, meaning he was a year too late to take part in the Whalers' Cooperalls party.
Quenneville has become one of the most respected coaches in the game, and is sure to be in the Hall of Fame someday.  He and his mustache were stuck toiling away in anonymity on bad teams during his playing career, so it's nice that they're both finally appreciated.
Moving Along
I hope you enjoyed this short look at some of the best mustaches that have graced the NHL over the years. Are there any that you think were unfairly left off this list? Which of the ones here are your favorites? I'm looking forward to hearing from you, so please put your comments and/or questions below!