This week we got some information about the NHL's plan to return to play after the season was paused back on March 12 due to Covid-19.  There is a lot to unpack here, and given the circumstances there still are questions that can't be answered right now.  With that in mind, I want to lay out the specifics of the league's plan and then give my thoughts.
Looking at the plan from a high level, the general topics that we got at least some information about this week were the locations, the teams involved and the playoff format, the format for the 2020 NHL draft, and the timing for all of these.  Understandably, each topic has some gray area that requires a wait-and-see approach before deciding how to handle certain questions.  Let's look at what we do know, along with the details that still need to be determined.
---
Where It's At – Two Hub Cities (And a Microphone)
One of the most interesting aspects of the league's plan is that all games will be played in two hub cities, one for each conference.  This reduces the risk of exposure to Coronavirus, not just for players and team staff that will move to the hub cities, but also for anyone that might come into direct or indirect contact with them at home.  And, it vastly reduces the amount of travel.  That's a good thing right now not just for public health reasons, but also financial and logistical ones.
The NHL hasn't decided yet where the hub cities will be, with good reason.  As NHL Commissioner Gary Bettman said, they don't want to lock in the hub cities now and then have one of them become a Covid-19 hotspot between now and when play resumes.
Related to that, the league will need certain infrastructure available to pull off the hub approach, and part of that is having enough testing capacity and not disrupting or infringing on the testing needs for the general public in that location.  With that in mind, they're putting off the decisions about specific hub cities until we're closer to resuming.
That said, the league did share a list of 10 candidates to be hub cities, which are: Chicago, Columbus, Dallas, Edmonton, Las Vegas, Los Angeles, Minneapolis-St. Paul, Pittsburgh, Toronto, and Vancouver.
As you can see, among the 10 cities, there are seven in the U.S. and three in Canada; likewise, seven are homes to Western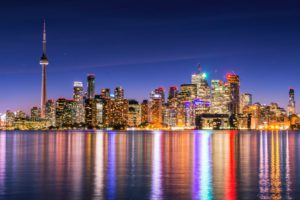 Conference teams, while three are homes to Eastern Conference teams.
How much do those points matter?  Well, in an ideal world – relatively speaking, of course, since if there was no Coronavirus all teams would be playing in their home cities – there would be one hub city chosen from each conference.  And one of them would be in the U.S. and one in Canada.
Given that the league plans to wait until closer to the resumption of play to see what the virus situation is in each location before selecting the hub cities, it's impossible to say for sure, but I think there's a good chance they'll be able to have a hub city representing each conference.
I'm not as certain about whether they'll put one city in each country, and Bettman referenced the reason.  Canada currently has a 14-day quarantine requirement for anyone entering the country, so that would be a dealbreaker.  That said, the situation could be different by the time the NHL is close to playing games again.  Maybe the quarantine requirement will have been lifted by then.  Like so many other aspects of this, the question of whether the league can have a hub city in Canada can't be answered definitively yet.
---
Who's In?
Even though we don't know the hub cities yet, we do at least know which teams will be grouped together in the two hubs.
To start, let's emphasize this – the regular season is over.  When the season was paused in March, teams had played between 68 and 71 games of their 82-game schedule.  The logistics of trying to finish the regular season and complete the playoffs would have been impossible, so the league decided to go straight into the playoffs when they resume play.
But, the playoffs will have a different format, and not just because of the hub cities model.  Instead of the top eight teams in each conference like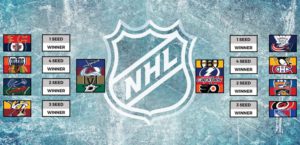 normal, the top 12 teams from each conference (based on regular season points percentage) will be included, with the top four teams in each conference getting a bye through what the league is calling the "qualifying" round.  That involves teams 5-12 in each conference playing a best-of-five series (5v12, 6v11, etc.).  After the qualifying round, the winners will play the top four teams in the first round.
But the top four teams, even though they have a bye through the qualifying round, won't be sitting idle.  They'll actually play a round robin against each other to determine seeding for the first round.  These games will be played with regular-season OT and shootout rules.  If teams have the same record after the round robin, the regular season standings are used as the tiebreaker.
I'm of two minds on the round robin games.  It sounds like the players asked for that, which I admit surprised me a little bit at first.  After all, if they're waiting for the qualifying round to finish, why would they want to play real games where there's a risk of injury right before they have to play whoever wins in the qualifying round?
Normally, a team is glad to have as much rest as they can during the playoffs, especially if the team they'll play next is playing a long series.  But at that point, the top four teams won't have played real games in months.  They won't be banged up and needing rest like they normally would in the playoffs.  Instead, if anything they'll be too well rested, to the point where they're not used to the speed and intensity of real games.
So I get why they would want to play a few games to get their timing back.  I do think it's a little unfair that a team that was in first place based on the regular season standings could get knocked down to the fourth seed based on just those three round robin games.  At the same time, if there wasn't anything at stake, the games wouldn't serve their purpose of getting the players used to playing at full intensity again.
The league and Players Association haven't decided yet whether this first round, and the second (quarterfinal) round will be shortened this year to best of five, or if they'll stick with best of seven.  The semifinals and finals, Bettman said, will remain best of seven.
Likewise, they haven't decided if the matchups in each conference after the qualifying round will be based on a bracket format, or if they'll use reseeding like they normally do.  The league likes the bracket format; the players prefer reseeding, and I agree.  I'm not sure what the appeal of the bracket format would be, but if someone can explain why that would be better than reseeding I'm open to being convinced.
---
Is It A Little Drafty In Here?
The specifics around the draft format kind of made my head hurt.  Just being honest.  It's tempting to not even get into it here, and kick the can down the road for a future post, but I don't think that would be right.  I will say that I'm not really a fan of the format, though; to me, it gives new meaning to the term "draft bust."
Let's put that aside though, and just try to wade through the particulars, shall we?
Ok, I'll start with the most simple part of it.  The seven teams whose seasons are finished – meaning they aren't one of the 24
teams either getting a bye to the first round or playing in the qualifying round – will enter into the draft lottery.
The eight teams that lose their qualifying round series will also enter into the lottery.  However, there will be either one or two stages to the lottery (whether stage 2 happens depends on what happens in stage 1).
Stage 1 of the draft lottery will take place on June 26.  Note that this is before the top 24 teams will have resumed play, so placeholders will be used for the future losers of the qualifying round series.
In stage 1, there will be three separate draws for each of the first three picks in this year's draft.  If one of the bottom seven teams (i.e., teams that won't be in the playoffs) wins a draw, then they keep that pick.  However, if a draw is won by one of the placeholders for the teams that will later lose in the qualifying round, then that pick will get redrawn in stage 2, which will take place after the qualifying round.  Stage 2 will only include the eight teams that lose in the qualifying round, it won't include the seven teams whose seasons are finished.
After the top three picks are drawn, whether that requires one stage or two, the rest of the draft sequence will be determined based on regular season standings, as usual.  Also as usual, the odds for the top three picks are weighted based on the regular season standings.
---
Timing Is Everything
When the league paused in March, it quickly came up with a four-phase plan for returning to play.  Phase 1, which the league is still in now, simply involves players and team staff going into self-quarantine mode.
Phase 2 means that players, along with very limited staff, can return to team practice facilities for voluntary non-contact skating and workouts.  However, no coaching will be allowed for on-ice work, and a max of six players will be allowed in the facility at a time.  Players will be tested for Covid-19 before being allowed to start Phase 2 training, and at least twice weekly after that.  They'll also need to do a temperature and symptom check daily.
The league is hoping to start Phase 2 in early June, which is right on top of us.
Phase 3 is when teams will open their official training camps.  The earliest that this could start is July 1, but like Phase 2 before it,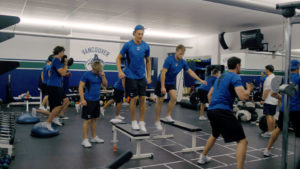 the league will follow the guidance of medical and governmental authorities.  Bettman said they hope training camps could last roughly three weeks, give or take.
Phase 4 is when the actual games start.  Of course the timing is again dependent on what happens before it, but Bettman put forward the expectation that the playoffs would run through the summer and into early fall.
---
What Does This All Mean?
Fortunately, it doesn't take the brain of Professor Jennings from Animal House to figure out that there are plenty of question
marks around the plan.  That's not a knock on the league or the Players Association, because they're dealing with a lot of unknowns and the circumstances are evolving constantly.  I think they've done a good job of planning for what they can, and defining the principles that will guide their approach for all the different possible scenarios.
Here are just some of the questions and concerns raised by the return-to-play plan, as of right now.
Questions
Will the league have a cut-off date by which, if they aren't able to resume play by then, they will decide to cancel the playoffs and not award a Stanley Cup?
Related to that, how big of an impact to the timing of next season are the league and Players Association willing to accept?
If there are any employees (players, coaches, or other essential staff to be located in the hub cities) that don't feel comfortable with the health risk and refuse to report, how will that be handled?
What if one or more players test positive after play has resumed?  The league has said they don't think one player testing positive would mean the entire team would have to stop playing, but what about two, or three?  Would the team forfeit their series?  What about opponents that had already played games against the team with the positive test(s)?
What happens if, after play has resumed, there is a change in government policy that forces one or both hub cities to "shut down?"
Concerns
Injuries: This is more a concern as it relates to next season.  Yes, players have had what is equivalent to an offseason since the season was paused in March, but if they play games into early fall and then have just a very short break before going straight into the 2020-21 season, that basically will be two playoffs and a regular season back to back to back without a true off season.  I can see that causing an increase in injuries next year, and I'm sure it will be a concern for the Players Assocation.  Look for that to be a factor in negotiations about when to start next season if they are able to play this season's playoffs.
Draft: Under normal circumstances this year's draft would have been held on June 26-27, but it has been postponed indefinitely.  Some draft-eligible players may be waiting to see where they get drafted, and by what team, to make decisions about their development path – e.g., whether to go the the major junior route, or maintain amateur status so they're eligible to play NCAA hockey.  The later the draft is, the harder it is for those young players to make a well-informed decision in a time crunch.
---
Giveaways And Takeaways
I had two big takeaways after watching Commissioner Bettman lay out the league's plan earlier this week. One was reaffirming how exciting it will be when hockey returns. Just hearing the TV analysts talking about some of the qualifying round matchups got the anticipation flowing.
The other takeaway was the more somber realization that the plan to return is dependent largely on factors that are completely out of the league's and the NHLPA's control.  And given what we know about how easily Coronavirus spreads and that it can incubate in someone before showing up on a test, it's very possible – maybe even likely – that it will have a major impact on one or more teams' lineups during the playoffs.
And that's if we even get to that point.  As Bettman said, the most basic condition for implementing the plan is that it's safe to do so – for players, coaches, staff, and the general public.
I want hockey to come back as much as anyone.  And I understand the desire to have a Stanley Cup winner so this season doesn't feel like a waste.  After all, the Stanley Cup has been awarded every year since 1893, except for two: 2005, when the season was cancelled due to a lockout; and 1919, when the final was cancelled after five games due to, ironically, the flu pandemic.
But I also think the league and Players Association are right to proceed with an abundance of caution and consideration for the bigger picture.  The most important part of that bigger picture is concern for public health.
I think the odds of the NHL's plan to return working exactly as it was laid out this week are pretty low.  However, I believe that the odds for the remainder of the plan going well get better with each phase that they pass through.
Personally, I would say I'm a hopeful doubter at this point.  I want this plan to work – I think it's unlikely, but I'm glad they're being realistic and I'm rooting for it to be successful.
---
Now, I'll turn it over to you.  Do you think the NHL is crazy for considering this, and if so, why?  What aspects of the playoff or draft format do you like or dislike?  As a percentage, what do you think is the likelihood that the plan can be executed without any major problems (e.g., a negative impact on public health, one or more team rosters being severely depleted due to positive tests, etc.)?
Please let me know what you think – leave your comments and questions below.  Thanks!