Today is Cinco de Mayo, and I figure there's no better way for a hockey blog to celebrate than with a post celebrating one of the most traditional and iconic hockey jersey numbers – that being number five, of course.
To understand why number five has the significance that it does, it's helpful to look at how the spectrum of hockey numbers has evolved with time.
Over the last 40+ years, higher numbers have become more and more common in hockey, but at one time, it was extremely rare to see a hockey player wearing a number above 28, unless they were a goalie. Even in that case, goalies almost always stuck with certain numbers: 1, 30, 31, and to a lesser extent 29 and 35.
That gradually changed for both skaters and goalies at the NHL level, for a few reasons. As franchises got older, they began to retire numbers to honor important players in their histories. In the 1960s, teams started carrying two goalies instead of one. But I think the biggest factor is that players simply started thinking outside the box.
The earliest case I can remember of a hockey player wearing a "football number" was when Phil Esposito was traded from the Bruins to the Rangers. He had always worn number seven with Boston, but in New York that number was already taken by Rod Gilbert. So, Esposito just decided to go with 77. Interestingly, Brad Park, who went from New York to Boston as part of the trade, did something similar. Having worn number two as a Ranger, he found that it was already retired in the Bruins organization, so he switched to 22.
The most memorable example of this phenomenon involves Wayne Gretzky. At age 16 when he started his first and only year of junior hockey, he wanted to wear number nine; he had worn it through his entire youth in honor of his favorite player, Gordie Howe. But it was already taken by an older returning player, so Gretzky switched to 99.
After Gretzky started dominating the NHL a couple years later, higher numbers started popping up a little more frequently through the 1980s, and then the trend just grew even faster beginning in the 1990s.
So, lower jersey numbers in hockey, especially single-digit ones, somehow carry an air of gravitas. NHL teams have retired lower numbers far more than higher numbers. Obviously this is largely driven by the fact that higher numbers were almost unheard of until the 1970s, and still aren't as ubiquitous as lower numbers. But still, the history associated with the lower numbers gives them a little more weight, even today.
In this post, I want to talk about some of the great NHL players that have worn number five on their uniforms. These players' careers span from as early as the 1920s to as recently as 2012. What they all have in common, though, is that they contributed to the prestige associated with the uniform number five in hockey.
---
Dit Clapper
Only his name is familiar to a lot of younger fans today, but Dit Clapper was one of the best players of the NHL's first few decades. Part of his greatness was his versatility. Having played defense his entire life before reaching the NHL, he was switched to right wing as a rookie with the Bruins in 1927 and promptly excelled as part of the Dynamite Line, one of the best forward lines of the era.
At 6'2″ and 200 lbs, Clapper was one of his generation's biggest players, and he had a reputation for playing a hard and physical, but clean, game. He did get in trouble once, in a notable incident. During a playoff game, he lost his temper after getting high sticked, and
went after the player that hit him. Referee Clarence Campbell, who would later become president of the NHL, called Clapper a "dirty SOB" – so Clapper took a swing at Campbell, knocking him down with one punch. To his credit, Campbell went to bat for Clapper, telling the league that he had provoked the player, which probably was why Clapper didn't get suspended.
Clapper moved from forward back to defense in the second half of his 20-year career with the Bruins. He ended up being named to both the first and second all-star teams three times each; he was the Bruins captain for 16 years, as well as the only player-coach in team history; and he is the only player to play on three Stanley Cup-winning Bruins teams.
On the night of his final game in 1947, Clapper had his number five jersey retired by the Bruins and was inducted into the Hall of Fame – an extremely rare instance of the Hall waiving the waiting period, which speaks to how highly regarded Clapper was.
But maybe the greatest tribute to Clapper is the fact that he was mentioned in the movie Slapshot, ensuring that he will forever be associated with "old time hockey."
---
Bernie Geoffrion
Bernie "Boom Boom" Geoffrion was a great player that had a key role in transforming the game, as he popularized the slap shot in the 1950s. In retirement, he enjoyed a second wave of fame when he appeared in Miller Lite beer commercials with other sports personalities like Billy Martin and Bob Uecker.
For much of his playing career, Geoffrion was overshadowed by his legendary Canadiens teammates Rocket Richard and Jean Beliveau. In 1955, Geoffrion and Richard were in a tight race for the league scoring championship when Richard was suspended for the rest of the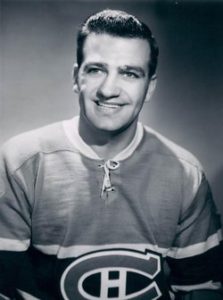 season and the playoffs (setting the stage for the famed Richard Riot). Geoffrion ended up winning the scoring race by one point over Richard. Believe it or not, Montreal fans actually booed Geoffrion for passing Richard, who was like a god in Quebec.
Fortunately, the Montreal fans eventually came to accept and appreciate Geoffrion as a great player in his own right. In 1961, when Geoffrion became just the second player in NHL history (along with Richard) to score 50 goals in a season, he got a 10-minute standing ovation at the Montreal Forum.
Geoffrion's family tree has a lot of branches in the hockey world. His father-in-law was one of the NHL's first superstars, Howie Morenz. His son, Danny, and grandson, Blake, both played in the NHL; Blake also won the 2010 Hobey Baker Award as the top player in NCAA hockey.
In addition to playing on six Stanley Cup-winning teams with Montreal, Geoffrion won the Calder Trophy as rookie of the year, was named to one first and two second all-star teams, won a Hart Trophy as league MVP and two Art Ross Trophies as scoring champion, and was inducted into the Hall of Fame. His number was retired by the Canadiens in 2006; sadly, he passed away the day of the ceremony. In 2017, he was named one of the 100 best players in NHL history.
---
Guy Lapointe
Like Geoffrion, Guy Lapointe wore number five for the Montreal Canadiens, which made for a rare case of a team retiring the same number on two different occasions. Lapointe's career spanned from the late 1960s to the mid 1980s, before the Canadiens retired Geoffrion's number in 2006. They held a separate ceremony to honor Lapointe in 2014.
Even though when he was growing up Lapointe didn't aspire to an NHL career, planning to become a police officer instead, he ended up becoming a star defenseman for his hometown Canadiens in the 1970s. Along with Larry Robinson and Serge Savard, he was part of the
"Big Three" defensive core on one of the best teams in history. I can't really think of any comparison to the Big Three. Maybe in Chicago, if you go back a few years to when Duncan Keith and Brent Seabrook were both at the top of their game, and then add in a third defenseman that was at the same level. That's how good Montreal's Big Three were.
Lapointe was a well-rounded player – very strong defensively, but as his 622 points in 894 career games show, he also had good instincts for when to jump into the play on offense.
Besides playing a key role in helping Montreal win six Stanley Cups in the 1970s, Lapointe had a reputation as a great practical joker, which is why he earned a mention in my post about hockey pranks. He once slathered his hand in Vaseline before shaking hands with Prime Minister Pierre Trudeau when the PM made a visit to the Montreal locker room.
Lapointe was part of Team Canada in both the 1972 Summit Series and the 1976 Canada Cup. He was named to one first and three second all-star teams, and is a member of the Hall of Fame.
---
Denis Potvin
Not many players still have fans chanting their name more than 30 years after retiring, but Denis Potvin does. It's not fans of the Islanders, who he played for his entire career, though. It's Rangers fans, still going strong with the "Potvin sucks!" chants.
Why? In a nutshell, because Denis Potvin was as polarizing as he was talented. Drafted first overall in 1973 after an outstanding junior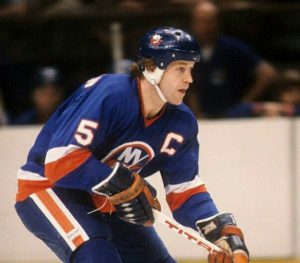 career, Potvin came into the league very confident – some would say arrogant. He had some pretty strong opinions and didn't hesitate to voice them. That rubbed a lot of people the wrong way, including some of his teammates initially.
One of the best-known examples was after Bobby Orr was named the MVP of the 1976 Canada Cup. Potvin (who was defense partners with Orr in the tournament) said that he thought he had played better than Orr and was more deserving of the award.
Despite sometimes having a big ego, Potvin had the game to back up his high opinion of himself. Known as a master of the hip check, he excelled at both ends of the ice. He became the first defenseman to reach 1000 career points, finishing with 1052 in 1060 games. He also captained the Islanders to four straight Stanley Cups from 1980 to 1983.
For anyone who doesn't know the history behind it, the "Potvin sucks!" chant stems from a 1979 incident at Madison Square Garden where Potvin checked Rangers center Ulf Nilsson in the corner. Nilsson broke his ankle on the play and missed the rest of the season. The Rangers lost in the Stanley Cup final that season, so some Rangers fans blamed Potvin for injuring Nilsson and costing them the Cup. I don't think they would have won anyway, but I get it.
The ironic thing is that Potvin's hit wasn't dirty, and I don't think it really even caused Nilsson's injury. The MSG ice is notoriously bad, and probably was even worse back then. Nilsson's foot got caught in a rut just before Potvin hit him; Potvin didn't do anything wrong per se, but the chant became a tradition that carries on to this day.
Potvin won the Calder Trophy as rookie of the year, was named to five first and two second all-star teams, won three Norris Trophies as the league's best defenseman, and had his number retired by the Islanders. He was inducted into the Hall of Fame in 1991, and was named one of the top 100 players in NHL history in 2017.
---
Rod Langway
Rod Langway has one of the more interesting backstories of an NHL player. The only NHL player to be born in Taiwan (his father was stationed there with the US military), he grew up outside Boston, but didn't play organized hockey until he was 13.
An outstanding athlete with a strong work ethic, Langway was heavily recruited by college football programs, as he was one of the best high school quarterbacks in the country. He also was thought to have pro potential in baseball, where he played catcher. Langway wanted
to play hockey too, though. He went to the University of New Hampshire because it was one of the few schools where the coaches would let him play both hockey and football.
Langway left UNH after two years to turn pro with the Birmingham Bulls of the WHA. The next year, he moved to the NHL, winning a Stanley Cup with the Montreal Canadiens.
After becoming a key player over four seasons with Montreal, Langway was part of a big trade with Washington before the 1982-83 season, and it was with the Capitals that he really broke out. He became the most dominant defensive defenseman in the league over the next several seasons. He was physical, but not to the point where he got out of position chasing a big hit. He was always in the right place, and was pretty much impossible to beat one on one.
Langway won two Norris Trophies as the top defenseman in the league, was named to two first and one second all-star team, and had his number retired by the Caps in 1997; he was inducted into the Hall of Fame in 2002.
---
Nicklas Lidstrom
I don't know how many defensemen have won the Norris Trophy after the age of 30, but I'm guessing it's not a long list. I do know, though, that there's only one name on the list of players who have won seven Norris Trophies after the age of 30. That name is Nicklas Lidstrom.
Lidstrom is without question one of the best players of all time. He was one of those rare players that can control the tempo of the game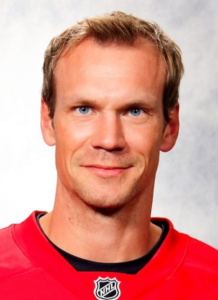 both offensively and defensively. His greatest gift was his intelligence on the ice; he read plays as well as anyone that I've ever seen.
That intelligence is a big reason why he was still one of the league's top defensemen when he retired at age 42. And it's not like he lasted that long because he had a light workload. Ice time stats aren't available before the 1998-99 season, but over the last 14 years of his career, he averaged 26:54 minutes of ice time per game in the regular season, and that increased to 28:09 in the playoffs. Oh, and in his 20-year NHL career with the Red Wings, he never missed the playoffs.
Along with his seven Norris Trophies (tied with Doug Harvey for second behind Bobby Orr's eight), Lidstrom won a Conn Smythe Trophy as playoff MVP, was named to 10 first and two second all-star teams, won an Olympic gold medal with Sweden, and won four Stanley Cups. The Red Wings retired his number in 2014, one year before he made it into the Hall of Fame. Not the least bit surprisingly, Lidstrom was included on the NHL's list of the 100 best players in league history.
---
Extra Attacker
I want to mention one more player that wore number five in their NHL career, and that's Bill Barilko. On its surface, this post is intended to be about the best, most accomplished players to wear the number, and based on what he achieved during his career, Barilko – though a solid player – doesn't have the kind of resume that the other players have.
That being said, the bigger reason for this post, as I said at the beginning, is to recognize the heritage and history behind one of the classic hockey uniform numbers. In that context, Bill Barilko has as much to do with number five being an honored number in hockey as anyone.
Barilko, like so many others that have worn number five on their jerseys, was a defenseman. The Maple Leafs called him up from the minors partway through the 1946-47 season to replace an injured player; he never got sent back down. He didn't put up big offensive
numbers, but his youth, good looks, and hard hitting made him popular with Toronto fans. The Leafs won the Stanley Cup in four of Barilko's five seasons.
His role in the last of those Cup wins in 1951, and what happened after, transformed Bill Barilko from a hockey player into a tragic, mythic figure.
In the 1951 Stanley Cup final, the Leafs held a 3-1 lead over Montreal in the best of seven series. Just like each of the first four games had, game five went to overtime. Just 2:53 into the extra period, Barilko saw an opportunity and raced toward a loose puck in the Montreal zone, backhanding it into the net as he was upended by a Montreal player to win the Cup for Toronto.
It was a fairy tale moment. Fans rushed onto the ice to celebrate; Barilko's teammates hoisted him up on their shoulders and carried him off the ice. Just 24 years old, Barilko was on top of the world.
That August, before returning to Toronto to get ready for the new season, Barilko decided to go on a weekend fishing trip in northern Quebec. The two-seater plane would be flown by a family friend, who was an experienced pilot. They never returned.
After winning the Stanley Cup four times in five years, the Maple Leafs didn't win it again until 11 years later, in 1962. That summer, the wreckage of Barilko's plane was found, his and the pilot's skeletons still strapped into their seats.
---
I want to hear from you. Who are your favorite players that wore (or wear) number five? They don't have to be from this list, of course. What do you think about the relatively recent trend toward more non-traditional jersey numbers in hockey – do you like the variety, or are you more old school? And, how are you celebrating Cinco de Mayo? Please leave your comments and questions below – thanks!