It's been a little while since I did one of these "best players" lists, so I thought it would be a nice way to pass the time with no hockey going on at the moment.  Today, I decided to come up with a lineup of the best undrafted NHL players at each position since 1970.
Why am I only including players from 1970 and after?  Well, it's because before that, the way that NHL teams acquired players worked very differently.  Each team sponsored junior teams, and would scout and compete to sign amateur players to their junior system.  Essentially, when a player signed an agreement to play for a junior team, they also were agreeing that their future playing rights as a professional belonged to the NHL team that owned the junior team.
So, when the NHL starting holding a draft in 1963, only players that hadn't signed an agreement with an NHL team were available to be selected.  In other words, for the first several years of the draft, the best amateur players weren't available, because they had already been signed by NHL teams and placed on one of their junior teams.  The NHL began eliminating the system of sponsored junior teams in 1967, but it took a few years before all amateur players that had signed with an organization under the old format were out of the amateur hockey system.  So, 1970 was the first year that – just like now – all draft-age players were eligible for selection by an NHL team.
And that's why 1970 is the perfect starting point for a list of the best undrafted players.  Most of the best players that entered the league from 1963 through 1969 were undrafted, and before 1963, all players were undrafted.  It's only after all of the best draft-age players started being eligible for the draft that an undrafted player having a great career becomes notable.
I'll say this, seeing some of the players that weren't drafted made me really think about the collective thought processes of NHL general managers and scouting departments over the years.  Especially given how so many highly-touted draft picks don't live up to the big expectations that go along with their draft position.
Anyway, I decided to do this as if I was putting together a starting lineup for a game.  Some of the choices were no-brainers, some required a lot more agonizing and analysis.
And now, let's take a look at my all-star team of undrafted NHL players from the past 50 years.
---
In Goal…
Ed Belfour
Belfour was one of the more fiery goalies in recent memory, and usually that fire served him well.  Known as Eddie the Eagle, the nickname was very appropriate in describing his focus, confidence, and intensity.  Sometimes, though, Belfour's intensity got the best of him, and that earned him another nickname – Crazy Eddie.
Belfour played for five NHL teams, but his best years were split between the Blackhawks and the Dallas Stars. One incident that wouldn't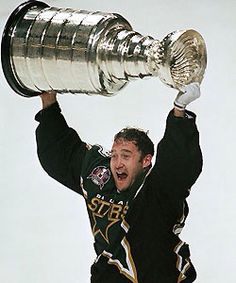 fall in the career highlights category was when he was arrested at a Dallas hotel in 2000 for creating a disturbance and then resisting arrest. But on the positive side, at least he injected some comic relief into the situation, even if unintentionally.  When he was in the police car, he drunkenly offered the officers a $1 billion dollar bribe to let him go.  Yes – billion, with a B.
On the ice, despite occasional temper tantrums, he had a brilliant, Hall of Fame career, earning a reputation as a clutch goaltender that raised his game to an even higher level in the playoffs.  After winning the NCAA championship as a freshman at the University of North Dakota, Belfour turned pro with the Blackhawks.  He made an instant impact; in his first season, he won both the Calder Trophy as rookie of the year and the Vezina Trophy as the league's top goalie.  Belfour is fourth among NHL goalies in career wins, and is one of only two players to have won an NCAA championship, a Stanley Cup, and an Olympic gold medal.
---
On Defense
Borje Salming
Borje Salming isn't just one of the best undrafted players of the last 50 years, he's also one of the most important players, period.  Salming was the first European player to establish himself as an elite player in the NHL, and he did a lot to change how European players were perceived in North America.
When Salming left his native Sweden to join Toronto in 1973, the thinking in North American hockey circles was that Europeans were soft and didn't have the will or toughness to handle the physical style in the NHL.  Sometimes that attitude was even evident within their own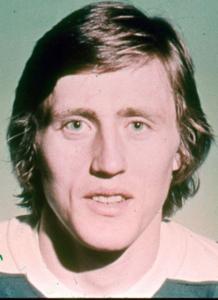 NHL teams.  Inge Hammarstrom was another Swedish player that Toronto signed at the same time as Salming.  Leafs owner Harold Ballard once said of Hammarstrom that he "could go into the corner with a dozen eggs in his pocket and not break any of them."
Salming was a regular target of opposing teams, who believed that after he absorbed some hard checks and maybe a few punches, he would run back to Sweden, or at least be too intimidated to play well.  Salming defied the stereotypes, though.  He excelled both offensively and defensively, and he didn't shy away from physical play, even dropping the gloves on occasion when he was forced to.
The generation of European players, especially Swedes, who came to the NHL after Salming point to him as a pioneer and an inspiration for showing that Europeans could succeed in the NHL.  Salming spent all but one of his 17 NHL seasons with Toronto, playing his last year in Detroit.  In addition to being named to the first all star team once and the second team five times, he was inducted into the Hall of Fame after retiring, and in 2017 when the league celebrated its centennial, he was named one of the 100 best NHL players in history.
---
Dan Boyle
Dan Boyle was on the small side for an NHL defenseman at 5'11 and under 200 lbs.  He was a good skater, but he didn't have blinding speed.  He wasn't a big hitter, and he didn't have the hardest shot.
What made Boyle so good was his hockey sense.  His ability to anticipate plays at both ends of the ice made some of his supposed
shortcomings a lot less relevant, because instead of trying to put a crushing hit on someone, he could get to the right place before his opponent and use body positioning to get control of the puck.  Instead of trying to blast a shot past a goalie from the point, he could quickly move a few feet to change the angle, allow teammates to screen the goalie, and shoot for a deflection.
Boyle signed his first pro contract after playing four years of college hockey at Miami University of Ohio.  He played for four NHL teams in his 18-year career, with his prime spent with the Lightning and Sharks.  He ended up with 605 points in 1093 career games, picking up a Stanley Cup and an Olympic gold medal along the way.
---
Playing Center
Wayne Gretzky
Crazy, right?  How did the guy that would go on to be the greatest player of all time not even get drafted?  Well, there's actually a good explanation, and it's not because every NHL team was too dumb to pick him.
Wayne Gretzky was 17 and thus too young to be eligible for the NHL draft when he turned pro in 1978, with the Indianapolis Racers of the World Hockey Association, a rival league to the NHL.  He was traded (sold, actually) to the Oilers after eight games because the Racers were hemorrhaging money.  When the WHA folded at the end of the season and four teams were going to be absorbed into the NHL, the Oilers were one of them.
Based on the rules that were established for the four WHA teams' entry into the NHL, Gretzky was supposed to be made eligible for the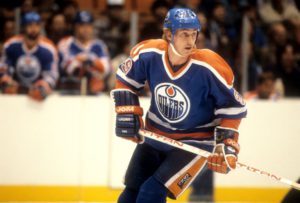 draft.  However, his contract wasn't a regular player contract, it was a personal services contract between him and the Oilers owner, so the NHL didn't have authority to void it, and Gretzky didn't want to because he wanted to stay in Edmonton.
So, the Oilers got to keep Gretzky, meaning he was never drafted.  Of course, he went on to become the most dominant offensive force in hockey history.  His achievements are too numerous to list them all here, so I'll just mention a few.
First, when he retired in 1999, Gretzky either held by himself or shared 61 different NHL records; 21 years later, he still has his name on 60.  My favorite Gretzky stat is that even if he had never scored a single goal in the NHL, his 1963 assists would still make him the all-time leader in points; nobody else has that many goals and assists combined.  Gretzky himself said the record he thinks will be the hardest to break is his record of 51 consecutive games with a point, which he set in the 1983-84 season.
---
At Left Wing
Artemi Panarin
Panarin is the only active player to make my starting lineup of undrafted players.  I know having him as my first-line left wing might be a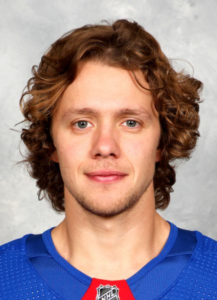 little surprising since he has only played five NHL seasons.  Fair point, but I would counter that left wing doesn't have quite the same caliber of undrafted players to pick from as the other positions.  And really, longevity is the only thing working against the Bread Man when it comes to comparing him to the other undrafted left wings I could have picked.
The bottom line is, Panarin is a special player.  He has averaged over a point per game for his career – no small feat in this era.  His vision and creative playmaking skills allow him to create offensive chances seemingly out of nowhere.  He's also responsible defensively, and very popular with his teammates.  Maybe most importantly, based on his career-best numbers this season, he looks like he's still getting better.
---
At Right Wing
Martin St. Louis
St. Louis, who was listed at 5'8″ and 180 lbs., is the perfect example of an undrafted player that should make NHL GMs re-examine their obsession with a player's size.  He was a four-year standout at the University of Vermont, but then spent three years going back and forth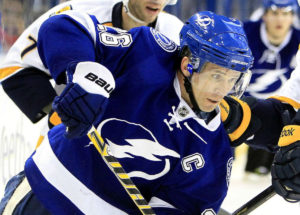 between the Calgary Flames and their minor league affiliate, with the Flames trying to fit him into a defensive checking line role.  It wasn't until he was traded to Tampa Bay in 2000 that he got an opportunity to show that he was capable of much more.
St. Louis blossomed with the Lightning, where he played for 13+ seasons before spending the last 1+ seasons of his career with the Rangers.  He had great hands, quickness, and hockey sense.  And even though he was one of the smaller players in the league, he was very strong for his size, and was hard to knock off the puck.  His greatest attribute, though, was his competitiveness – he gave everything he had on the ice.
His desire and will made St. Louis one of the best players of his generation.  Besides being named to the first all star team once and the second team four times, he led the league in scoring twice, won the Hart Trophy as league MVP and Lester Pearson Award for MVP as voted by the players, and was inducted into the Hall of Fame.
---
Post-Game Review
Well, I hope you enjoyed reading this post as much as I enjoyed researching and writing it.  I'd love to hear from you.  Do you like my starting lineup for undrafted all stars, or do you think my picks stink?  If you think I made bad picks, let me know what changes you would make – I won't be offended, I promise.  Please leave your comments (or questions) below – thanks!