Next week marks the start of NHL training camps, so I thought it would be a good time to write about some of the free agent signings in the NHL over the summer that I find particularly interesting. Interesting can mean a lot of different things, of course.
Some of these signings are interesting just because it's a star player changing teams, and that's likely to have an impact on the ice this season, for both their new team and their former team. And, at least in some cases, the salary cap implications of their contract could have a domino effect on their new team's lineup – if not immediately, then over the next year or two.
Some other signings are interesting to me because I'm surprised at the contract length or amount that a team was willing to give a player. That's a polite way of saying that I think the team was stupid. Or, conversely, I'm surprised at the fact that a player's previous team let him get away given what their replacement options are and how much they're paying them. Again, that's my polite phrasing.
Regardless, there have been lots of "interesting" free agent signings this summer, so let's break down some of them.
Sergei Bobrovsky to the Panthers
Pretty much everyone figured that Sergei Bobrovsky (pictured) was going to leave the Columbus Blue Jackets when he became an unrestricted free agent this summer. And it makes sense that he signed with Florida; they needed a goalie with Roberto Luongo retiring.
Maybe Columbus would have given Bobrovsky a similar contract to what he got from Florida (seven years at an average of $10M per year), but it just seemed like Bobrovsky leaving was a foregone conclusion. Kudos to the Panthers for being aggressive, there were lots of teams that would have liked to sign Bobrovsky.
What makes it a little strange to me, though, is that just 10 days before signing Bobrovsky, the Panthers drafted a goalie, Spencer Knight, in the first round, 13th overall. I talked about Knight in my draft review a couple months ago. He's considered an absolute blue-chip prospect.
Knight is a freshman at Boston College, but I could totally see him leaving early to turn pro. At least, that's what I was thinking before the Panthers signed Bobrovsky. Now, I'm not so sure. Maybe Florida is open to trading Knight's rights while he's in college, or maybe they're thinking that having Bobrovsky signed for seven years means that they can let Knight stay in school all four years to develop. Then, when he graduates, they could sign him and groom him as Bobrovsky's backup.
The thing is, even if they do that, Bobrovsky's contract will still have three more years left when Knight graduates. I can't see them keeping Knight in a backup role for three seasons, especially if he had already played four years of college hockey.
One way or another, I think the Panthers are going to move one of these two players before Bobrovsky's contract is up. Which one? I suppose it'll depend on how they both play over the next few years, but my guess is Bobrovsky won't be playing out the entire seven years of this contract in Florida.
Semyon Varlamov to the Islanders, Robin Lehner to the Blackhawks
We're going to stay in goalie land here. I'm talking about these two moves together because they relate to each other.
Let's get the basics out of the way first. Both Varlamov and Lehner were unrestricted free agents after last season; Varlamov was with the Avalanche last season, Lehner with the Islanders. On July 1, Varlamov signed a four-year deal with the Islanders for an average of $5M per year. That same day, Lehner (at right) signed a one-year deal with Chicago for $5M.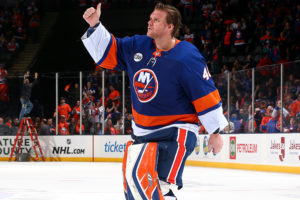 Context is really important here, so just in case you're not aware, Lehner had an outstanding season, finishing third in voting for the Vezina Trophy. He also shared the Jennings Trophy with Thomas Greiss because the Islanders allowed the fewest goals in the league during the regular season.
Varlamov (below), on the other hand, was pretty mediocre last season. He ended up losing the starting job in Colorado to Philipp Grubauer. Based on every statistical measure, Varlamov was worse than Lehner last year. In fact, based on statistics, Varlamov has never had as good a season as Lehner did last year. And Varlamov is 31, while Lehner is 27.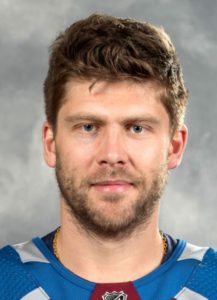 You'd think the Islanders would be really interested in keeping Lehner, right? Well, according to him, the Islanders wouldn't give him the length of contract he wanted, but he was willing to do a shorter term. They made him what apparently was kind of a low offer, and he took a couple days to think about it. When he came back and wanted to work something out, the Islanders told him they had moved on and were signing somebody else (that turned out to be Varlamov).
Lehner has been very open about his challenges with addiction and mental illness. The Islanders were supportive of him; it seemed like a really good fit on both sides. That's why their decision to lowball him and then retract the offer is as disappointing as it is stupid.
Really, if the Islanders were willing to commit to Varlamov for four years at $5M/year, then Lehner should have been worth far more per year to them, even if they didn't want to give him the term he wanted. I assume he was looking for at least five years, but given that he said he was willing to sacrifice term to stay on Long Island, they should have given him a higher average annual value.
It strikes me that the Islanders were very quick to go out and find another goalie. Would they have handled negotiations with Lehner the same way – refusing to offer a longer term even though he's only 27, then making a lowball offer, then retracting it, going with another goalie that is simply not as good as Lehner – if Lehner's backstory was different?
I can't say for sure, but I know that if you look at it just in terms of hockey, there's no good explanation for it. Everyone expected the Islanders to suck last year after losing John Tavares in free agency. With good reason – even with him, they had missed the playoffs the previous two years.
Instead, after bringing Lehner in before last season, the Islanders jumped 23 points in the standings over the prior year, mostly because they allowed the fewest goals in the league. Some credit has to go to new coach Barry Trotz for getting the team to buy in to his team defense mentality, but the biggest difference was Lehner.
So, it's too bad for Lehner that the Islanders made a boneheaded decision, and it's too bad for Islanders fans too, because it's a decision that almost certainly will hurt the team on the ice.
As for Lehner, he is going to Chicago, where defense was a major problem last season. Part of the reason was that the Blackhawks were getting sub-par goaltending, but they also just weren't good defensively as a team. We'll have to wait and see if they get it together in their own zone this season. Lehner should command more than $5M/year on the open market, which is probably why he only signed for one year. If he has another good year, he should be able to find both the term and average annual value he's looking for after this season, whether with Chicago or someone else. I'm rooting for him.
Mats Zuccarello to the Wild
This signing was a little surprising. Minnesota gave Zuccarello (pictured) a five-year contract worth an average of $6M/year. I don't take issue with the annual salary, but as much as I like Zuccarello, I don't think five years was a smart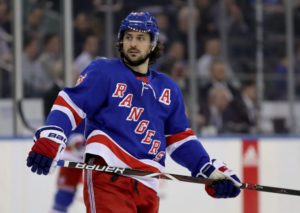 move on the Wild's part. They already had a couple contracts that are going to make things difficult for them in a couple years. Ryan Suter and Zach Parise are 34 and 35, respectively, and are under contract with an annual cap hit of over $7.5M each – for six more seasons!
So, these three players account for 25% of the Wild's cap space this season, all are signed for at least five more years, and Zuccarello is the youngest at 32. The Wild fired GM Paul Fenton this summer, and while apparently his people skills were what got him the axe, I'm sure that shortsighted deals like this one didn't help his case.
Jake Gardiner to the Hurricanes
Lots of people are surprised that Toronto let Gardiner (pictured) get away, especially given that his new four-year contract with Carolina is for an average of $4.05M/year. That's the exact same amount he was making with the Maple Leafs. I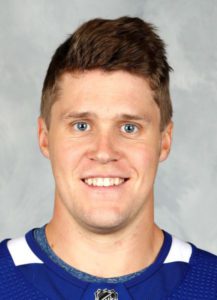 know that the Leafs still are trying to sign Mitch Marner and so they're in a tight spot with the cap, but it seems crazy that they couldn't find some way to keep Gardiner.
There's speculation that the Leafs were nervous about signing Gardiner because he's had issues with his back, and that they knew something that Carolina didn't. I have a hard time believing that Carolina wouldn't do their due diligence, though.
Regardless, it's shocking that one of the better defensemen in the league signed for a relatively modest amount for a player of his ability. He'd be in the top four defensemen on every team in the league, and top two on a lot, but there are third pair guys that make more money than him. Good for Carolina to sign Gardiner at a steal of a price, and this helps what was already one of the league's strongest defensive corps.
Happy Trails
Obviously there were a lot more free agent signings in the NHL this summer, but I just wanted to highlight some of the ones that stood out to me. As I alluded to above, and in my post a while back about trades this summer, the Mitch Marner contract situation still isn't resolved, so I guess we'll just have to keep waiting.
---
I want to know what you think! Of all the signings this summer, whether I wrote about them here or not, which ones do you think will help teams the most? Which teams do you think overpaid for a particular player? Which signings surprised you the most? And, what are your thoughts on the role that the salary cap plays in free agency? Please share your comments and questions below.